Erasmus for Young Entrepreneurs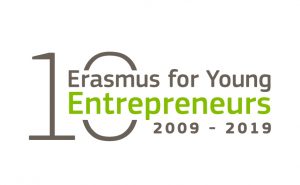 The BIC has secured European funding to encourage businesses to collaborate with overseas partners.
The Erasmus for Young Entrepreneurs is a European exchange programme which offers entrepreneurs the opportunity to spend 1-6 months in a European business.  Entrepreneurs in the early stages of planning or starting a business, or who have been trading for less than three years can participate in the programme.
Erasmus also allows for established businesses to act as a 'host' and to welcome a European entrepreneur to work with them.
As a new entrepreneur
You receive a grant for travel, living and accommodation costs
Receive support from an experienced entrepreneur
Develop new international contacts and networks
Being a host
If your business has been trading for more than three years you can become a host
A new entrepreneur works on a specific business project
You receive fresh ideas and develop new international contacts
Take a look at some of our Erasmus success stories:
For more information contact Louise Hardy on 0191 516 6170 or email louise.hardy@ne-bic.co.uk