A GRAPHIC designer whose clients include; the NHS, Grosvenor Casinos and Sunderland AFC has expanded his business by taking office space at The Hub Washington.
After being made redundant in 2013 from Newcastle United, Gavin Grieves established Grieves Design and hasn't looked back since. He contacted the North East Business and Innovation Centre (BIC) for business support advice.
Well into his third year and business is thriving so much so that Gavin has taken office space at the BIC's sister site in Washington. Gavin explains:
"Obviously I was devastated at being made redundant but the job centre referred me to the BIC and I was assigned to one of their business advisers. I then realised that I could make a go of it on my own.
"After running the business from home, I decided the time was right to take office space to minimise the distractions that working from home brings, and I am delighted to say it has been much more productive than working from the kitchen table!"
Gavin lives within walking distance of The Hub, which is located on Crowther Road and when he saw that the BIC were managing the office space, he decided to view what the building had to offer.
"The facilities are cracking here at The Hub. It is great to have access to meeting rooms for when I need to bring clients to the building, not to mention the ample free parking. It is also reassuring to know that help and support is there should I need it.
"After being made redundant it was hard to imagine I'd find something else but being my own boss brings so much satisfaction and a greater financial reward."
"My main aim is to maintain my current success, and to keep delivering to my returning customers, whilst welcoming more new ones. The BIC have been amazing, they have helped me every step of the way throughout the start-up process.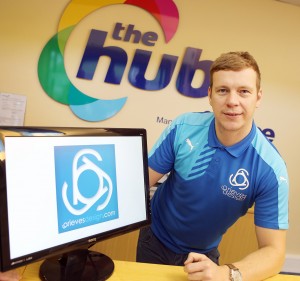 "I would advise anyone wishing to start a business to contact the BIC. I can't believe when I first started I said I'd never have an office, yet here I am in my own office working for myself!"
Centre manager of The HUB, Jillian Coleman added:
"It is great to welcome Gavin to our business community. The Hub only opened four months ago and we are already filling up fast. The response has been excellent but I think it is down to the quality and range of office accommodation that is available, our location and the facilities on site.
"The Hub is ideal for new business start-ups like Grieves Design and large established companies such as call centres who may have fifteen plus staff. With business support services available from the BIC, its little wonder why companies are choosing to locate their business at The Hub."
The Hub provides flexible managed office space and business support services for businesses of all sizes across the North East. To view the office space available, please call the team on 0191 338 5166 or visit www.thehubwashington.co.uk