Coffee Grams are celebrating after receiving a five star rating from Sunderland City Council just nine weeks after it opened in Houghton-Le-Spring.
Owner Susan Ingram has worked in catering all her life but always had a dream ofrunning her own business. After visiting the North East Business and Innovation Centre (BIC) Susan was supported by the Start & Grow Programme which is specifically designed to provide pre and post start support to individuals looking to start a sustainable business.
In August, Susan turned her dream into a reality opening a newly refurbished Coffee Shop, Coffee Grams, in Philadelphia Lane. Susan explains:
"For 15 years it has been my ambition to do this and I am so proud that I took the plunge. I visited the BIC for financial advice, where my business adviser Ron Anderson helped me with tax issues, bookkeeping, and business rates. Even though I have a vast experience of working in catering, each day presents a new challenge which makes it great fun and I am constantly learning along the way.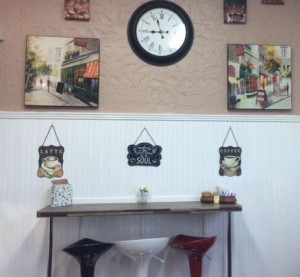 "As soon as I visited the building I knew this was the place to launch the business. It is a former coal mining community and I am already getting to know the locals. The building is small, personal and really is a home from home now, offering fresh coffee, all day breakfasts, lunches, cakes and much more. I am very proud of my five star rating!"
Business adviser Ron Anderson added:
"It's fantastic to see another BIC client go on to achieve so much in a short space of time. Susan knew what it would take to run her own business and once she felt confident with the tax and bookkeeping she was set to go.
"Well done Susan!"
For more information about Coffee Grams click here
If you too have a dream to start your own business contact the BIC on 0191 516 6149 orclick here