Here at the North East Business and Innovation Centre (BIC), we have seen thousands of individuals come through the doors to receive advice on self-employment. Once they have started their own business, we tend not to see them again unless they need further support from a business adviser.
Klaire Ferry came to us 20 years ago and started her business Natural Selection Therapies. We caught up with Klaire to get her take on self-employment and how the business world has evolved.
What is your business?
To being with I opened a hair salon and the massage therapies was part of that. At that time massage was not something you could do stand alone as there was not the demand. I spent 10 years in the salon then I had my first child so went mobile and found employment. When I had my second child I decided to have a break from self-employment. In 2013 made redundant so I decided to start the massage therapies business again.
When did you first visit the BIC?
I visited the BIC in 1996 at the age of 26 and commenced trading that year.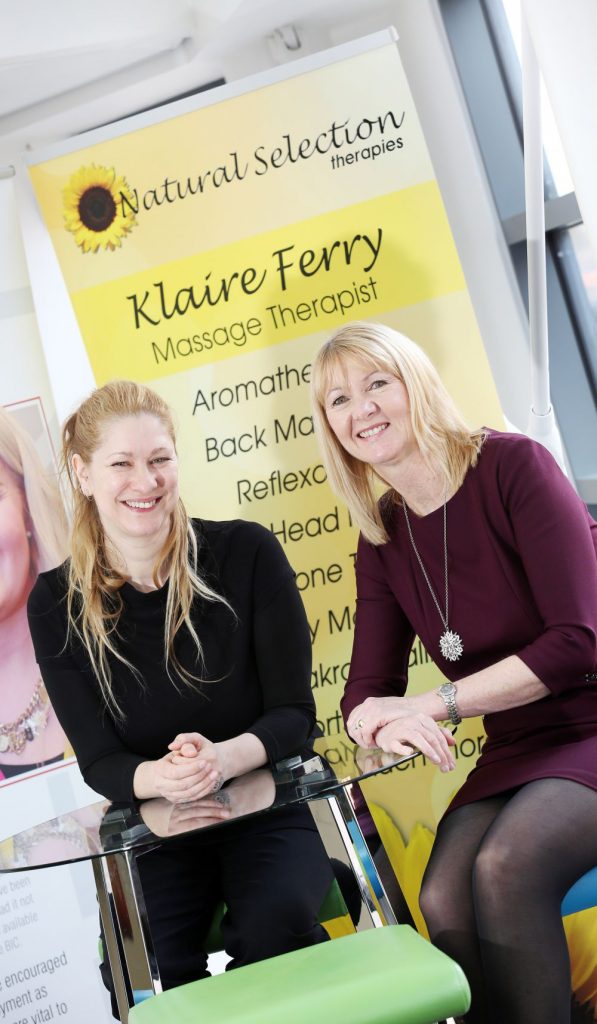 What made you start your own business?
After completing my complementary therapies training I knew this is what I wanted to do as a career. At the time there was no competition therefore limited employment opportunities in this area and working for myself was always tempting. I am now proud to say I am still doing what I love 20 years on.
Who was your inspiration?
Growing up my parents always worked hard and were very supportive. My father had his own business as a builder and my mother was a dress maker. So I had always seen them work hard as I was growing up to give me a good childhood so was always inspired and encouraged to work hard. They were very supportive and proud.
How did the BIC help?
I attended a six week training course and had one-to-one meetings with a business adviser where I received help with business planning and the legalities of running a business. I also received a £500 grant to help with start-up costs.
I always remember I was told to narrow down my target market as at the time I wanted everyone to be my customer and thought just anyone would use my services.
Who are your customers now?
I have a variety of customers now. Things have changed a lot since starting 20 years ago and massage therapies is accessed a lot more from a variety of people. I have a base within a hair salon in Grangetown and I also go into businesses such as Gentoo. I work with Headway Wearside providing therapies for people with brain injuries and also have a contract with a GP surgery. I am also qualified to teach therapies.
How are things different now in your business? How has it changed?
At the time there was no competition however as it's became more popular more businesses are offering this service. Interestingly I have reduced my prices making the treatments much more affordable for a wider audience.
How do you promote the business?
Mainly word of mouth. I still have clients contacting me today from years ago which is great. I do a little on social media however word of mouth is still the best form of advertising for me. Obviously 20 years ago there was no social media so my mother helped me design a leaflet which was hand drawn and photocopied and then we posted it through the doors.
What's the best thing about being your own boss?
When I first set up it was about the buzz of doing things my own way. Now it's about the flexibility it allows me whilst being a parent. I can manage my time to fit around family life. Being your own boss brings great satisfaction.
Where would you be if you didn't come to the BIC?
I think I would have still started my business but it would have probably taken a lot longer to start and I would have struggled. The grant I received was a necessity to help with start-up costs. It's a massive jump to go self-employed and I needed the support and really valued it at the time and still do today. I would always recommend people starting their business to come to the BIC for guidance.
What piece of advice would you give someone thinking about starting their own business?
Go for it. If the puddle is big enough, jump. Starting your own business is an exciting thing to do and there are support agencies such as the BIC to help you.
For more information about starting your own business call the Start-up team on 0191 516 6149 or click here