Queen's Awards for Enterprise 2021
When:
July 6, 2021 @ 2:00 pm – 3:00 pm
2021-07-06T14:00:00+01:00
2021-07-06T15:00:00+01:00
Contact:
Department for International Trade North East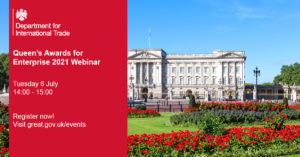 Join the Department for International Trade North East for a free webinar discussing the benefits the Queen's Awards for Enterprise can bring to a business. The Queen's Awards for Enterprise is the highest award available for businesses in the UK. Winners have reported benefiting from worldwide recognition, increased commercial value, greater press coverage and a boost to staff morale.
Who's it for?
The Queens Awards for Enterprise are open to businesses of all sizes and sectors, organisations can be a business or non-profit. Organisations must:
• Be based in the UK and file its Company Tax Returns with HMRC.
• Be a self-contained enterprise that markets its own products or services and is under its own management.
• Have at least 2 full-time UK employees or part-time equivalents.
• Demonstrate strong corporate social responsibility.
Focussing specifically on the International Trade Award, this session will provide an in-depth look at the additional eligibility criteria for this category and application process.
Why attend?
• You will be provided with hints and tips on what a good application looks like.
• Hear from previous North East winners who will share their experiences and the positive affect the award has made to their business.
• Gain insight into the application process and timetable.
• Discover what the next steps are after applying.
• Delegates will be offered a free one to one call for general advice on the application process.
Don't miss out on a briefing session, providing greater insight into the awards and to put you in the best possible position to apply.