A fast growing user experience consultancy and website developer is celebrating a move into their first business premises in line with the company's recent expansion.
49digital Ltd, now based at the North East Business and Innovation Centre (BIC) on the Sunderland Enterprise Park, was established by Helena Borthwick-Hill in 2010.
Whilst living in Vancouver, Helena launched the website design business alongside her husband Geoff who at the time was an airline pilot on sabbatical leave. Helena explains:
"When we first moved to Vancouver I had just finished my master's degree in planning and was employed by the Urban Development Institute (UDI) as a researcher. Geoff had an interest in web development so we started 49digital, providing web services and social media management to the UDI.
"In 2011, we came back to the UK and carried on with the business until we decided to take a break from it to re-evaluate the direction in which we wanted to take it. Geoff went back to flying and I took this time to do lots of training to take the business forward in its current form. I love learning and am passionate about what I do so this break was very relevant to how the business stands today.
"During the past six months we have been working closely with Ross Golightly from Sphera Consulting who has been helping us grow 49digital. Alongside moving into our new offices we now have a growing team of developers and UX consultants and are successfully delivering user-centred design to a range of industries across the region."
Helena is keen to build relationships with businesses and other website developers on a consultancy basis, she adds: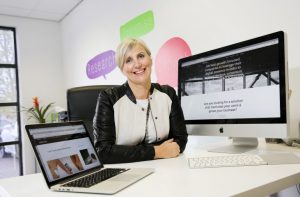 "We are keen to work with growth-focussed companies who are looking to seriously increase visitor conversion and revenue by adopting a user-centred approach. Our UX process includes robust user testing, competitor research and analytics which help us identify potential obstacles to growth and revenue and find solutions to those issues.
"Now that we work with larger businesses, we felt that the time was right to move into our first premises, rather than work from a home office. I already know some of the businesses based on the park, and after visiting the BIC we knew it was where we needed to be. The whole package just felt right. It fits with the market we are in and the free onsite parking is ideal for our clients to come and visit for meetings and training.
"The BIC's support is significant to our business and we have also been lucky enough to receive help from Neil Clasper from Sunderland City Council's business investment team who helped us secure funding for some equipment."
Centre manager at the BIC Donna Surtees adds:
"It's great to welcome 49digital to our centre. We aim to offer an all-round package of support as well as high quality business space so I'm delighted to hear that Helena and her team are already benefiting from the BIC's supportive environment as the business continues to grow.
"I'm confident that 49digital will also find it useful being located in close proximity to other local businesses."
Click here for more information on 49digital