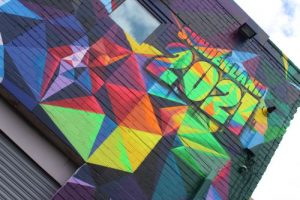 A SUNDERLAND artist has added his striking style to the streets of Sunderland in an effort to get people behind the city's bid to become City of Culture 2021.
Street artist Frank Styles, whose work already adds a splash of colour to streets across the city, has created a stunning Sunderland 2021 design, that he hopes will encourage people from – and passing through – the city to find out more about what winning the title would mean for Sunderland.
The artist, who carries out commissions across the North East, has decorated the corner of Little Villiers Street with a colourful twist on the Sunderland 2021 branding, and the display even remains visible on an evening thanks to special UV paint applied to the finished design.
Frank, who lives in Hendon, said that he hoped the artwork would raise awareness of Sunderland's bid to become a City of Culture, and get people behind it.
He said: "I want to use my art to tell stories and to create talking points, and I hope this display does that. The idea is that it gets people talking about Sunderland's bid to be a City of Culture and what it might mean for the city. Local artists could gain a huge amount from Sunderland winning the status, so it is something I am behind, and I would like to see artists from the city being championed if we are successful."
Frank, who was born in Kent, said: "I choose to live in Sunderland. I studied here and I never moved back home. I think Sunderland offers a lot of opportunities, and people and buisnesses here have embraced my work, but the city doesn't have the same reputation as other bigger cities, and the perception is that if you are creative, you need to go to a bigger city to do well. That's not true, but winning City of Culture status would help to prove to people that you can succeed in Sunderland. You can have a successful career here. It would help us keep creative talent, which I think is something the city desperately needs to do.
"This display is my way of helping Sunderland to showcase its artists, and hopefully getting people interested in the bid to win the City of Culture 2021 title."
The display, which took a week to complete, appeared earlier this month and will remain in place – win or lose – as a permanent reminder of Sunderland's 2021 bid. It is one of a number of striking displays across the city, with a Raich Carter mural on the Blue House Pub in Hendon among the most distinctive and visible of Frank's other work.
Frank added: "While the 2021 artwork is my own, it would not have been possible to get this off the ground without the help of Imagine Creative Solutions; Arny Sneddon; and John Lewins from Tyne and Wear Access who donated use of a scissor lift, so I need to thank them for helping make this possible."
Frank produces street art and murals, and is a freehand spray painter with 18 years' painting under his belt, as well as eight years' experience facilitating workshops.
Rebecca Ball, director of Sunderland 2021, said: "Frank is a supremely talented artist, and this is a stunning piece of work that we are sure will capture the attention and imagination of people in the city.
"Collaboration is at the heart of our bid. The team behind it was formed thanks to joint-working between the University of Sunderland, the MAC Trust and Sunderland City Council – so to have the wider backing of the community, who are supporting with displays like this one from Frank – is just amazing. It is this kind of support that we think will demonstrate to judges the level of passion, support and pride that the people of Sunderland have about their city – we'd love the whole city to get behind us and whether it is by following Sunderland 2021 on social media, blowing the trumpet for Sunderland wherever possible or sharing with us their thoughts on what makes Sunderland special, we'd love to feel the whole city was behind us in our bid to bring City of Culture status here."
It is thought that winning City of Culture status could deliver a multi-million-pound economic boost for the city, creating jobs and shining an international spotlight on the city. Sunderland is one of a number of towns and cities to have declared its intention to bid, and will submit its first stage bid in September. Judges will draw up their shortlist early in 2017 and the winner will be named in the autumn, during Hull's year as City of Culture.
Click here to find out more about Sunderland 2021.