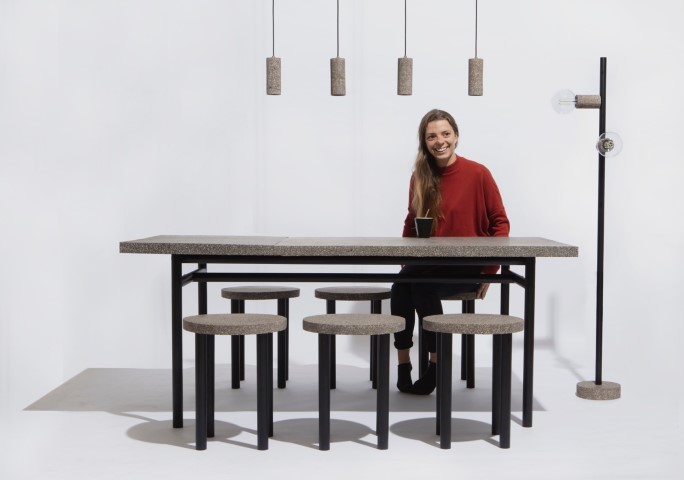 The North East Business and Innovation Centre (BIC) continues to build on its success with the Erasmus for Young Entrepreneurs programme as it welcomes back Francesca, the latest exchange entrepreneur.
The Erasmus programme is a cross border exchange programme which offers those in the early stages of starting a business the opportunity to spend three to four months within a business in Europe.
Francesca Birch spent time with Ultra Studio based in Amsterdam to develop and gain new skills in preparation for the launch of her new business. Francesca is in the process of starting a consultancy business that offers innovative and sustainable design solutions and has spent time at a studio, working on lighting and product design. She explains:
"Through the Erasmus programme I was able to travel to Amsterdam and spend time in a well-established business, not only as a designer but as a student. The company acted as a mentor and together we worked on targeted goals each week. I learned about aspects of the business in which I lacked experience, including financial planning, customer relations and how the running of a studio works on a day to day basis.
"I coordinated projects and gained knowledge of the products journey to market, and the different routes. I also overcame my fear of presenting to clients which I can take forward in my own business.
"I would most definitely recommend the Erasmus programme to aspiring or newly established businesses. It's been an excellent experience and the support I have received from the BIC has been brilliant."
The BIC is a UK contact for anyone wishing to take part in the Erasmus programme and are currently looking to recruit companies willing to act as hosts to overseas entrepreneurs. Louise Hardy, business development manager and head of the programme at the BIC added:
"This is a fantastic scheme which benefits both the entrepreneur and the host company. Entrepreneurs bring fresh ideas and knowledge to the host business, and they in turn receive one to one mentoring and have the opportunity to acquire the skills needed to run a business and share first-hand knowledge of international markets.
"I am delighted that Francesca benefited so much from participating in the programme and I am confident she will go on to use the skills she has acquired in her own business venture."
To find out more about Erasmus for Young Entrepreneurs contact Louise Hardy on 0191 516 6170.