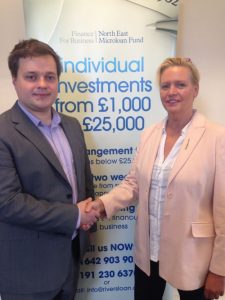 A new regional business group, Exclusive Business NE has secured a £25,000 loan via the Finance for Business North East Microloan Fund. The regional loan scheme managed by Rivers Capital Partners enables small businesses to fund their big ideas and achieve their aspirations for growth.
Exclusive Business have developed a portal that is designed specifically for the provision of business introductions, once registered individuals are matched where there is deemed to be synergy facilitating off line meetings at Exclusive Business Forums.
Behind the scenes of the Exclusive Business platform, is where the hard work is done for you! Once registered you are able to upload information into your own business news room and we can also promote specific business requirements for you.
With the aim to be the top provider of its kind, Exclusive Business is intent on becoming an enabler of successful business relationships across the North East and beyond.
Backed by a strong team of Directors, Exclusive Business feel they have identified a niche market opportunity by providing a suite of serious business services developed to be the solution of choice, taking the hard work out of locating new connections.
Linda Hitman, CEO at Exclusive commented, "We recognized that there is an increasing need to make quality connections, social platforms and networking events have become diluted by wider access. We wanted to create an environment where you no longer waste time, by registering on our platform you will know you will be interacting with like-minded people and making valuable contacts.
"The Microloan Fund was instrumental in enabling us to create the Exclusive Platform with a creative digital developer, the functionality this delivers is fundamental to the performance of Exclusive."
The loan secured through the Fund assisted with start-up costs as well as financing the launch event that introduced Exclusive to the corporate business community in the North East. Looking ahead Exclusive Business are collaborating on their next event on September 20th with Muckle LLP, to test business strategies via 'Business War Games' with Quirk Solutions, presenter Chris Paton.
James Holloway, Investment Executive at Rivers Capital said, "Exclusive North East has outstanding potential, they have a wealth of knowledge in this industry and they will use this to develop the business. A great example to other local businesses looking to raise finance to start-up or grow, I look forward to watching this company thrive."
Rivers Capital Partners offer small loans anywhere between £1,000 up to £25,000 for businesses in the North East. Rivers value the quality of the business rather than their assets. It is a quick and easy process with successful applicants receiving their loan on average in just two weeks. The Microloan Fund aims to boost the regional economy and since inception in 2011, has created over 520 jobs and safeguarded over 750.