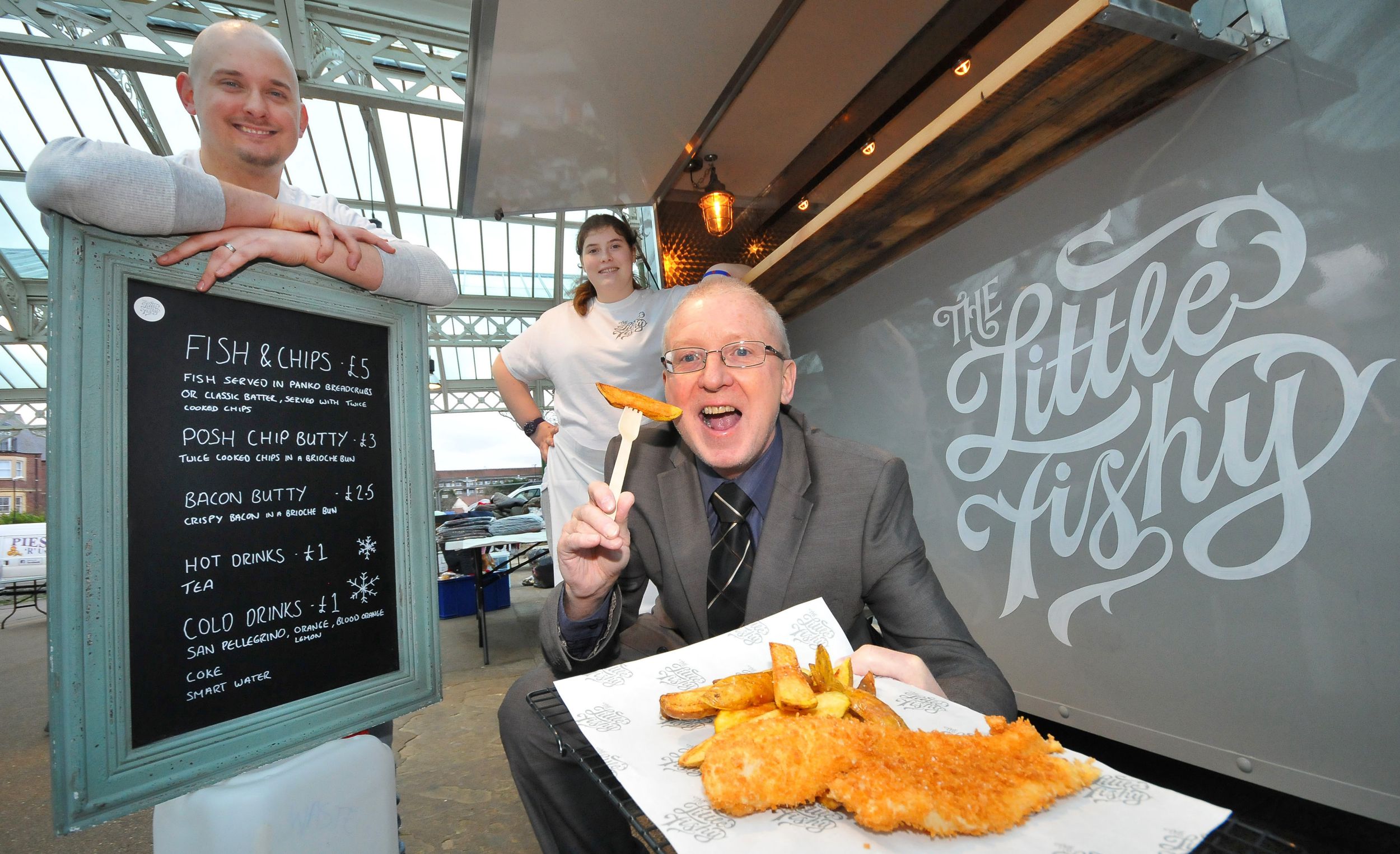 A former member of the Royal Air Force is set to create waves in the region's burgeoning street food industry with a fishy new venture putting a new stamp on an old classic, thanks to the help of TEDCO Business Support and Virgin StartUp.
Michael Tomlinson (31) has launched The Little Fishy, a mobile street vendor serving a new twist on the British classic, Fish and Chips. The Little Fishy will now be serving up a selection of locally-caught fish and chips from a bespoke built trailer thanks to a £16,500 start-up business loan from Virgin StartUp.
The Little Fishy trailer will be a regular sight at the expanding Tynemouth Station market after securing a coveted weekend slot to serve up tasty meals to hungry customers.
Michael, a regular visitor to the market with his wife and 2 year old twins, said: "Launching The Little Fishy has really been in the works since I left the RAF about 8 years ago. I knew I wanted to start a business in something food-based and street food markets were starting to become more popular in and around the North East. However, it was actually a visit to Tynemouth Market a few months ago which really got me thinking more seriously about the viability of this type of business.
"As the market has expanded in the past few years, so has the number of street food vendors and visitors looking for something a bit different to eat on a Saturday and Sunday rather than a sit-down meal. I approached the managers of the market and they were very supportive of the idea of a fish and chip style vendor so long as the trailer could be independently rolled in and out of the market every weekend."
With a potential location secured, Michael set about researching branding, recipes and trailer designs to help bring the Little Fishy concept to life. With a clear strategy to use only local suppliers and, where possible, organic products, The Little Fishy grew quickly from an idea into a real business prospect
Michael continues: "It was at this point that I approached TEDCO after meeting one of the business advisors at a start-up event and learning more about how they could help me bring together all of the ideas and turn The Little Fishy into a real functioning business. Bill Hartshorne, one of the business advisors at TEDCO, was just great in helping me realise the important of a good, solid business plan and get the basics of the business up and running whilst I could concentrate on the branding, food options and practicality of actually cooking and serving the food."
Michael worked with TEDCO Business Support via their Start and Grow programme to help get The Little Fishy up and running. The start up support agency introduced Michael to Bill Hartshorne as his personal business advisor, working on a one-to-one basis to take the business from concept, through to the planning stage and finally funding and launch.
Michael comments: "With Bill's support, we applied for and were successful in receiving a Virgin StartUp loan of £16,500 which has helped fund all of our start-up costs. Without it, we would have found launching The Little Fishy extremely difficult as we had to commission a specialist company to build the trailer from scratch to ensure we had all the equipment, storage and space we needed. Additionally, we were able to work with Ashley Wilton, a brand designer in Newcastle who specialises in hand-rendered typography for the likes of Fortnum and Mason, to create the gourmet artisan feel that really sets The Little Fishy apart from your everyday fish and chip vendor on the coast."
Virgin StartUp is a not-for-profit organisation and part of the Virgin Group, providing government backed start-up loans to help kick-start new ventures with the start up capital they need to make business dreams come to life. Virgin StartUp is exclusively delivered in the North East by TEDCO Business Support.
Michael said: "We launched in mid-December and are looking forward to customers trying our selection of fresh cooked cod, sourced direct from Taylors on the North Shields Fish Quay. We will be serving double-cooked chips made from heritage Northumbrian potatoes with fish in a light batter or panko crumb in our personalised grease paper. We want customers to enjoy the tradition of fish and chips by the seaside in a take-away format and we hope that our no nonsense approach to creating good, tasty food will be a runaway success."
The Start and Grow programme is delivered by TEDCO Business Support in the North East and is supported by the Regional Growth Fund (RGF). The programme is delivered throughout England by Cavendish Enterprise in areas where there are lower levels of business start-up to help new enterprises get up and running and develop new employment opportunities in the private sector with a range of services, including one-to-one mentoring, business planning and helping new ventures get investment ready.
Bill Hartshorne, business advisor at TEDCO Business Support comments; "The Little Fishy is a fantastic local business created by someone with a clear strategy and insight into how to make a food business successful. Michael's plan to start at market-level and build up a following of the Little Fishy brand before potentially making the move into premises has seen a number of street based food vendors make the jump from trailer to restaurant-owner lately. We hope to work with Michael in a long-term capacity, beyond the start-up phase, to support his plans for growing the Little Fishy brand even further and wish him every success in his new venture."
The Little Fishy will be at Tynemouth Station Market every Saturday and Sunday. For more information on TEDCO Business Support and how Start and Grow or Virgin StartUp can help kick-start a new enterprise, please visit www.tedco.org.