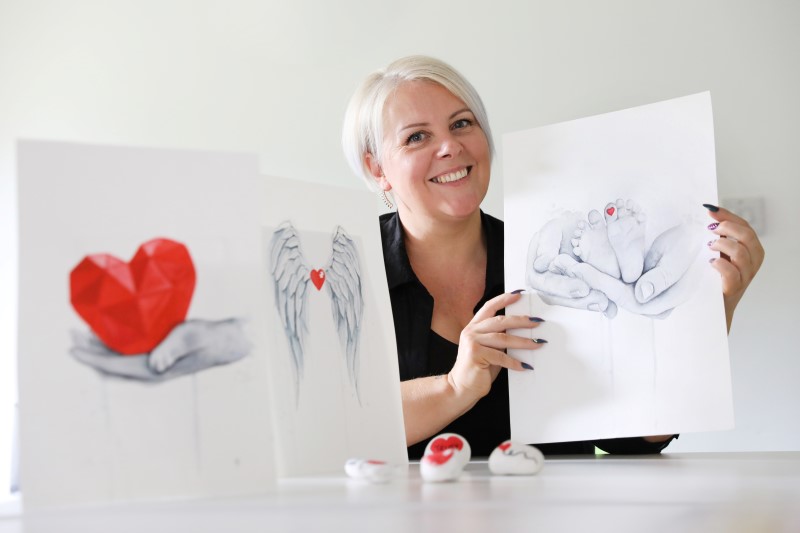 A SUNDERLAND artist who found comfort in art following the unexpected death of her sister, has set up a business she hopes will help others cope with grief and loss.
Karen Hughes, a 40-year old laundry assistant and mother-of-two from Penshaw, lost her sister and best friend Claire suddenly last year due to cerebral vasculitis.
The sudden passing of Claire, a mother and full-time carer to two young boys who both have autism and an 18-year-old son, left the family devastated.
Karen and her mother Joan, have since taken care of Claire's children, helping them come to terms with grief and life after their mother.
At the heart of the grieving process, which has helped the family come to terms with the loss, has been Karen's art, which both her sister and father pushed her to pursue just a couple of years ago.
"I've been interested in art for as long as I can remember, but always hid my passion for it as I was never very confident in my ability," Karen said.
"But when Claire and I regained contact with my father back in 2013, they kept pushing me to produce more work and more or less forced me to set up a Facebook page to showcase it.
"I am an emotional artist and I also painted pictures of local landmarks, such as Penshaw Monument, and the feedback I received was overwhelming, I was stunned by it!"
Karen continued painting and selling the occasional piece of work in her spare time; however, her world came crashing down with the sudden illness and tragic passing of Claire.
"It was so sudden, nobody saw it coming," Karen added. "One minute she was suffering from severe headaches and sickness, the next the doctors told us she had cerebral vasculitis and didn't have long left. It was horrible."
Naturally, Karen struggled to come to terms with the death of her sister and tried all ways to cope with the grief, before discovering comfort in her art.
Through her work, Karen began producing paintings and home decorations to celebrate the life of her sister and was amazed at the response, not only from those close to the family, but from her followers online.
This led to her launching KT Heart Art, selling bespoke art with the message 'Love is stronger than loss', to help others struggling with grief to remember that 'no matter how dark a time you are going through, love can help lighten the situation'.
She adds: "As art had been key to helping me grieve the loss of my sister, I decided to incorporate the message 'Love is greater than loss' into all of my work. This helped me develop a consistent style and to launch KT Heart Art.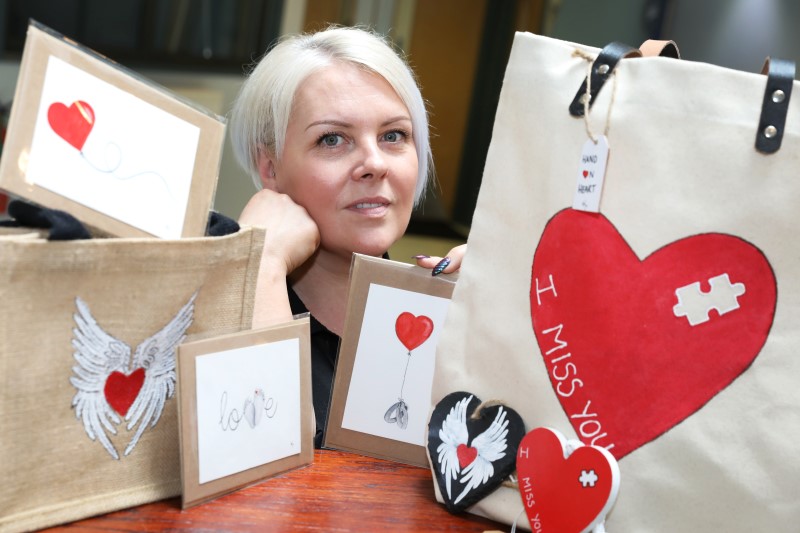 "Claire and I both had matching heart tattoos, which is one of the main influencers for including the heart in the designs. I suppose the key message is that love can fix everything. It doesn't matter what someone is going through, be it ill health, a grievance or financial difficulty, love can brighten up any day and has the power to change your mind-set. And that's what I hope to help others unlock through my work, that same feeling of relief and positivity I gained through painting."
Karen now produces a range of products from paintings to tote bags, pet tags, cards and home decorations which are sold through her Facebook page and in stores in Whitburn and Durham. However, it's her 'giving stones' which have proven most popular and have had the largest impact.
The painted stones, which each display unique, love-filled messages of positivity, are completely free and are aimed at helping make the world a nicer place. Already, they've been scattered in destinations as far afield as America, Cuba and Australia.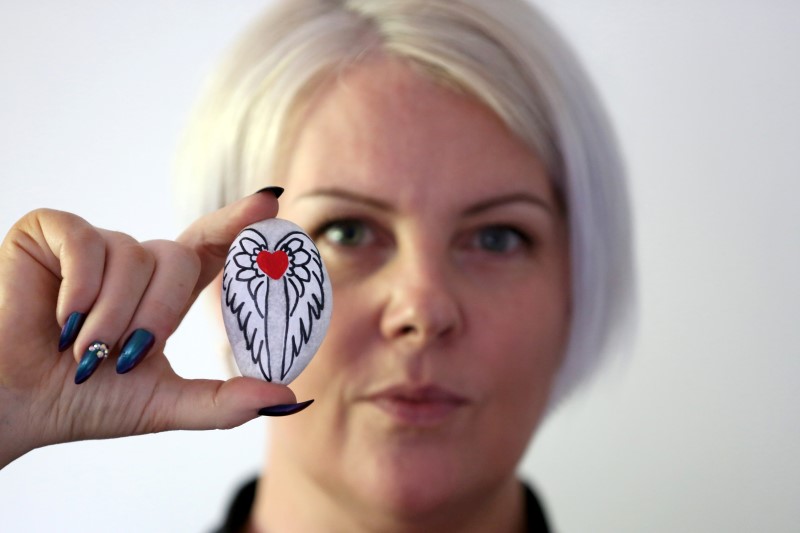 "I started painting and hiding stones with my daughter and nephews as a way of spreading random, joyous messages to others who may be struggling, and it just grew from there," Karen said. "Before I knew it, people were finding the stones and sharing pictures of them across social media.
"I then began receiving messages from people online asking where they could get their hands on the stones, as they wanted to scatter their own in places close to them to remember their own loved ones.
"This has led to them being scattered not only across the UK but across the globe. We've had people take them as far as the USA, Cuba and Australia!"
It's not just her free giving stones which have proven a hit overseas, either. Through Facebook and Instagram, Karen has received messages from all over the world and as well as shipping a painting to a customer in Australia, she has pending orders from customers in Colorado and Denver in the USA.
Looking forward, she is now hoping to take her business to the next level after receiving support from the North East Business and Innovation Centre (BIC). With the support of business adviser Margaret Cook, Karen has registered KT Heart Art as a business, learned how to market her work and how to manage her own books.
She is also opening a dedicated base at the centre which will act as a workshop, office, gallery and store, freeing up much needed space at home where she still cares for her nephews on weekends.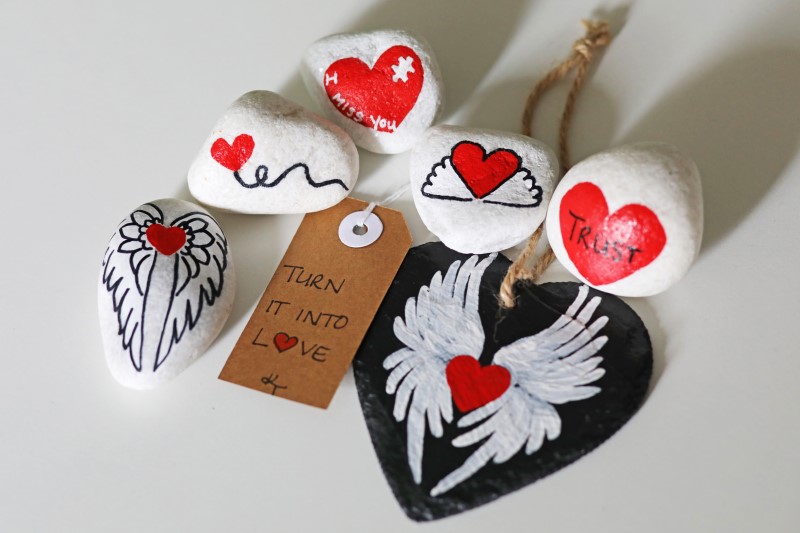 "The team at the BIC have been absolutely fantastic, I couldn't ask anything else of them," she said. "I went there with no business knowledge and am now compiling my own books, running my own marketing campaigns and designing a website, I couldn't have done it without them.
"Margaret has even helped me identify new stores in which to sell my products and has been in touch every week to find out how everything is going and to inform me of new channels I can tap into for further support.
"I've also signed for office space and will be moving in over the next couple of months. Up until now, I've been working from home, which has really limited me. Now I'll have a dedicated workshop, store and gallery where I can showcase and sell my work. It's all really exciting."
Speaking about Karen's journey so far, Margaret Cook, business adviser at the BIC, said: "It has been an absolute pleasure working with Karen and we're all extremely proud of how far she has come in such a short time.
"To overcome the adversities Karen has – and to see such success – shows not only how much passion, but also how much talent she has. We can't wait to see how the business grows from here and we wish her all the best for the future."
For more information about KT Heart Art visit their website or Facebook page
The North East Business and Innovation Centre (BIC)'s start-up programme is part-funded through the European Regional Development Fund (ERDF).