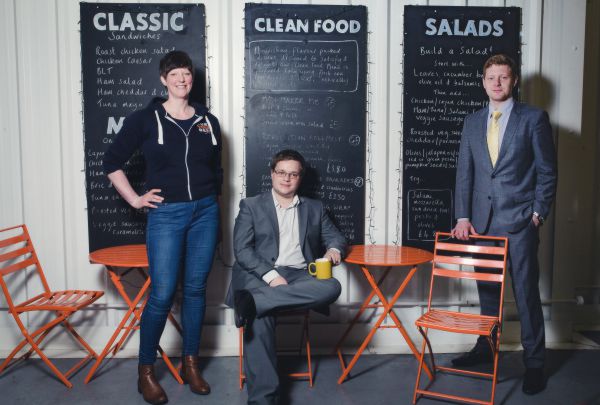 Newcastle-based 'clean' food cafe and coffee bar Love Lunch has secured a £10,000 loan via the Finance for Business North East Microloan Fund. Managed by Rivers Capital Partners, the regional loan scheme is designed to support start-ups and small businesses looking for simple loans to expand their operations.
Based at Fourth Banks in Newcastle city centre, Love Lunch is all about fresh ingredients, fresh flavours, and fresh ideas. They believe that great meals come from starting with fresh, simple, raw ingredients. Their ranges are designed to appeal to a variety of tastes, from the traditional to the contemporary with a particular focus on 'clean' food.
Owner Danielle Gibson founded Love Lunch in 2013 and has grown the venture into a robust operation with a reputable following. With big plans for the future, Danielle hopes to grow the business to facilitate external pop-up events as well as branching out her offerings for customers that want nutritionally balanced take home meals.
Danielle said, "After two years of steady growth I knew it was time for Love Lunch to expand. The product was right – and in demand – I had an excellent team in place and we were really starting to gain momentum.
I needed a packaged product that I could take to external locations and present to new customers. The microloan came at the perfect time to make this happen. I invested in a brand refresh by Unit44, and loved the results. We then developed a new website, packaging and various print and marketing materials.
The results have far exceeded expectations. We have launched our Clean & Prepped meals packages, where we supply freshly made, nutritionally balanced take home meals. The next stage will be to up scale the operation – whether that be to alter the set-up we have at Forth Banks, or to take on an additional kitchen premises."
The loan secured from the Fund allowed Love Lunch to engage in a re-branding exercise to reflect their growing product range and present a prevalent, stronger image of the business. Now the primary supplier for Model Health Café, a range of Love Lunch products is available at CrossFit Northumbria, and they are currently in talks with other local stockists.
James Holloway, Investment Executive for Rivers Capital said, "Love Lunch are an ideal candidate for the Microloan Fund and a great example to local business looking for finance to help them grow. Danielle is running an admirable business, and we are proud to help her with her expansion plans."
The Microloan Fund offers loans of £1,000 – £50,000 to small businesses that are unable to receive financial backing from mainstream lenders. Rivers Capital Partners base their decisions on the quality of the business rather than its assets. It is a quick and easy process, with successful applicants receiving the money on average within two weeks.