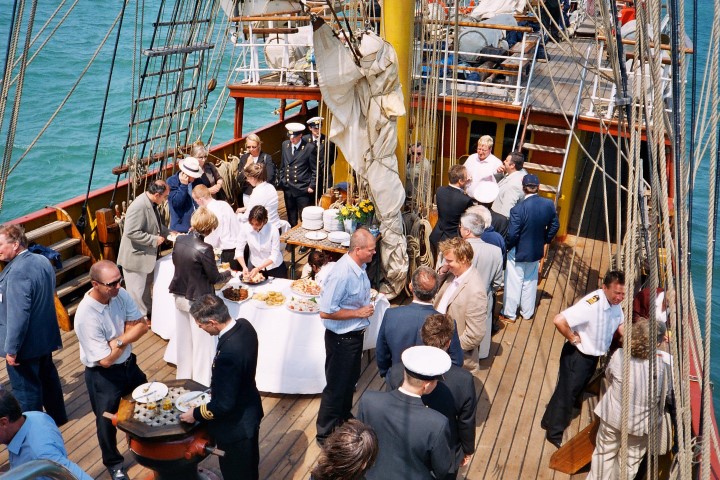 Fine dining and a deck-side seat at the UK's largest free family event are being lined up for businesses and their guests this summer.
On 11 July 2018, a magnificent fleet of vessels will arrive at the port of Sunderland, at the North East coast, in preparation for The Tall Ships Races 2018.
This will mark the start of a four-day festival of entertainment before the ships depart for Esbjerg, Denmark.
Now organisers have unveiled two corporate hospitality packages for those looking to mix business with pleasure – on land and at sea.
Each day of the festival will bring a changing programme of entertainment, street theatre and live music, along with inter-ship sporting activities, parades and carnivals.
However, the real stars are the ships and corporate clients can give their guests the chance to take to the waves with a Tall Ship voyage through the mouth of the River Wear and into the North Sea.
Three options are available; a short two-hour cruise, a longer three-and-a-half hour cruise and, on the 14 July, the chance to sail past the crowded shoreline, alongside the race participants in the spectacular Parade of Sail.
"The real advantage of these short cruises is that they give businesses the chance to make a day of it," said Tall Ships Races Sunderland 2018 project officer, Ian Flannery.
"They could explore the various entertainment zones and soak up the atmosphere in the morning and then step aboard their ship in time for a buffet lunch before sitting back and enjoying the cruise – or even learning the ropes from its international crew."
Businesses keen to celebrate into the evening can also choose to host a deck party on board a Tall Ship with bar facilities and bespoke catering, created by the event's hospitality partner, Sail Greenwich.
"The Tall Ships are hard to beat when it comes to evening entertaining," said Laurens Winkels of Sail Greenwich. "There is something very glamorous about them – and the crew are superbly trained in looking after guests".
"The ships also provide superb vantage points from which to enjoy the fireworks. However, with six months to go, corporate hospitality bookings are coming in thick and fast, so we would urge anyone interested to get in touch as soon as possible."
Package prices for the cruises start at £99 per person for short cruises and £159 for longer cruises and the Parade of Sail.
Tall Ship deck parties start at a cost of £99 per person for a two-hour drinks reception and £159 for a longer event including a buffet.
Parking is charged at £10 per car when booked in advance and coach parking is available.
For further information about corporate hospitality opportunities at Tall Ships Races Sunderland 2018 call Sail Greenwich on 0191 561 2100, email TallShipsHospitality@Sudnerland.gov.uk or visit www.tallshipssunderland.com.