A new business in Sunderland's is expanding science sector is creating high quality new jobs and has ambitious plans for future growth.
Biotech company Prokarya analyses bacteria in water on behalf of customers in the water industry, testing bathing water and tracing its microbial content. It is the only company of its kind in the UK and grew out of research carried out by founder Gregg Iceton as part of his doctorate, which he is studying with sponsorship from companies in the water industry.
Prokarya began trading from its base at the North East BIC in October and is now recruiting its first technical apprentice to carry out laboratory analysis. The company aims to create 20 to 30 jobs in the next three years, ranging from scientific and data analysis posts to administration roles and a team collecting field samples.
Gregg Iceton said: "The business has grown out of research I have been doing for the last four years as part of a STREAM engineering doctorate.
"The majority of the time is spent within the water companies and the research is very applied. I realised there was a demand for the service that Prokarya supplies in the UK. Our nearest competitor is in Paris."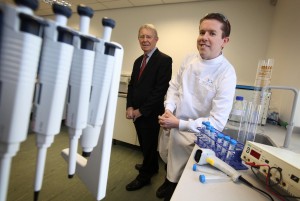 The company offers two services – BacTrack, to detect and source-track faecal bacteria in water samples such as bathing water or reservoirs; and BacPro, which can link the identity of bacteria to reactor performance, such as sewage works. The two services can be tailored to the customer's needs, and Mr Iceton is now in discussion with potential clients in the water industry that can benefit from the specialised work.
He had initially been looking to base the business elsewhere in the region but opted for Sunderland after talking to the City Council about his ambitions for the company. The base at the BIC offered a suitable laboratory and other support facilities for a new business.
Sunderland City Council's business investment team was also able to help by directing Gregg Iceton to suitable sources of funding to get the business off the ground.
"That kind of assistance was really valuable to me," said Gregg Iceton.
"The problem with seeking funding is that venture capital financiers are looking to invest hundreds of thousands of pounds in a company, and I was looking for tens of thousands.
"Sunderland City Council was very good with its communication and was very clear and straightforward to work with."
Cllr Harry Trueman, deputy leader of Sunderland City Council, said: "Prokarya is a welcome addition to the growing biotech sector in Sunderland.
"The company is providing a unique service and we're delighted Mr Iceton chose Sunderland as the business' base. It will also provide a number of quality, highly-skilled career positions for local people over the coming years and we look forward to continuing our relationship with Prokarya as the company grows."