The Duke and Duchess of Cambridge have given their royal seal of approval to Sunderland's new landmark Northern Spire bridge.
Their Royal Highnesses William and Kate were officially driven across the new bridge when they visited the construction site in Pallion during a visit to the city today.
During their visit, both Prince William and the Duchess helped to put one of the finishing touches to the railings of the bridge by using a wrench to tighten one of the bolts fixing the handrail in place.
Northern Spire is the first bridge to be built across the River Wear in Sunderland for more than 40 years and is on track to open this spring after three years of construction.
You can watch the construction process here in: Northern Spire – Story So Far.
While at the site, Prince William and the Duchess met workers involved in Northern Spire's design and construction before officially crossing the 346m bridge deck in a locally-made, new 100 per cent electric Nissan LEAF from the company's Sunderland plant, which is the biggest car plant in the country.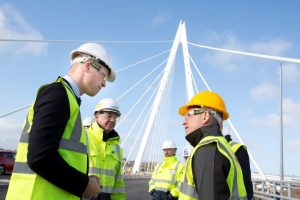 The Royal couple also spent time chatting to pupils from four local primary schools – Diamond Hall Junior Academy, Castletown Primary School, Highfield Community Primary School and Northern Saints Primary School, who had earlier built their own polystyrene models of the bridge.
Her Royal Highness was also presented with a posy of flowers by 10-year-old Ella McKenna from Highfield Primary School, and three teddy bears for Prince George, Princess Charlotte and the new baby by 11-year-old Olivia Campbell from Castletown Primary School, 10-year-old Tommy Lancaster from Diamond Hall Junior Academy and 11-year-old Emily Ross from Northern Saints Primary School.
Prince William was also shown an album of photos of his great grandfather, the then Duke of York, when he visited Sunderland in 1929 to open Wearmouth Bridge.
The new Northern Spire bridge is the biggest civil engineering project in the North East. It features an impressive 105m central A-frame pylon, which is twice the height of Nelson's Column and taller than Big Ben's clock tower. On completion, around 2,000 people will have worked on the project over about 900,000 man-hours.
Speaking after the visit, the Mayor of Sunderland, Councillor Doris MacKnight, said: "It was wonderful to meet the Duke and Duchess and she looked absolutely radiant. The Duke takes a keen interest in engineering and they both seemed really interested in the bridge and the story behind it.
"They also spent quite a bit of time talking to some of the people who have been instrumental in its design and construction over the last three years."
She added: "This is a project that's of massive significance to everyone in Sunderland and across the North East, bringing with it significant economic, regeneration and transport benefits to our city and the wider region.
"This is the first bridge to be built over the River Wear for 40 years and it's a project that has really captured people's imagination, so it means a great deal to have the Duke and Duchess here taking such a keen interest in the project and all those involved."
Stephen McCaffrey, Project Director for Farrans Construction and Victor Buyck Steel Construction, which formed FVB joint venture to deliver the project on behalf of Sunderland City Council, said he was delighted to welcome the Duke and Duchess to the construction site.
"We all feel incredibly proud and privileged to be working on such a landmark project as Northern Spire, and having Their Royal Highnesses here today, taking such an interest in the bridge. It is something we will probably all remember for a very long time," said Stephen.
"It's been an immense construction project, complex and challenging at times, but we are very close to completion now and the bridge will be open to traffic in the spring.
"We are busy completing the road surfacing, paving, lights and railings now. All of these final works are dependent on the weather, so whilst we are unable to give a completion date right now, the end is in sight so people won't have to wait too long before they can travel across this fabulous new bridge."
Part of the Sunderland Strategic Transport Corridor, Northern Spire will link the International Advanced Manufacturing Park on the A19, which is being developed as an internationally-recognised destination for advanced manufacturing, with Sunderland city centre and the Port of Sunderland.
It will open up swathes of land along the banks of the River Wear for future investment and regeneration, helping to create up to 6,000 jobs along the riverside corridor and boosting the local and regional economy.
It will also reduce congestion around the city, improve journey times, and be a source of pride and inspiration for Sunderland's future generations.