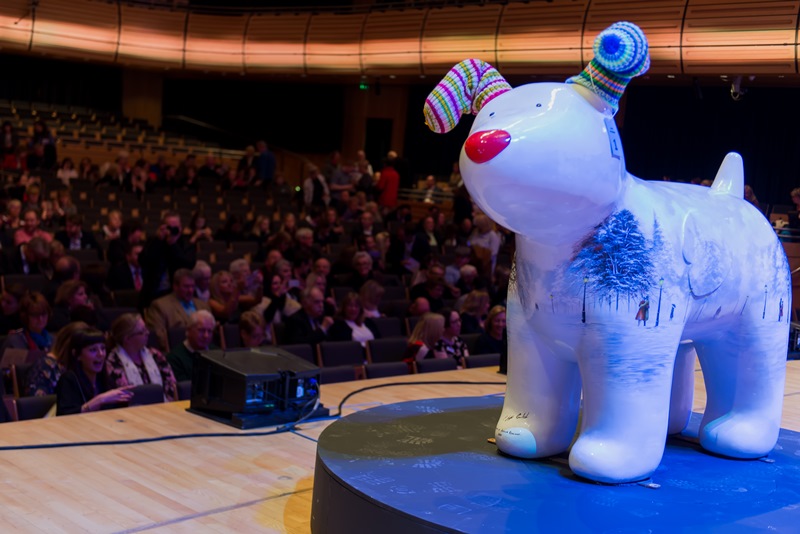 THE Great North Snowdogs have taken their final bow-wow – raising more than £250,000 for children with life limiting conditions in the North East.
The 61, individually decorated sculptures, which made up the region's biggest ever public art trail, went under the hammer at a Grand Auction at Sage Gateshead yesterday (6 December).
And North East buyers competed with internet and telephone bidders from across the UK to raise £259,200 for Newcastle-based St Oswald's Children's Hospice.
Among the highlights of the night were the glittering Disco Dog and Guide Dog, which each topped the £9000 mark, while four, never-before-seen, mini Snowdogs raised almost £15,000 in total.
One of the trail's most popular dogs, Arthur, was the first lot of the night and went to Eric Wardle who had travelled down from his home at Fife, Scotland, for £5,200.
Eric, originally from Gateshead, said: "My late mum, Moira, was cared for by St Oswald's and they've been a great support to my dad, Owen, ever since.
"They are just amazing people and this is my way of giving something back to them. We're going to put Arthur in our garden as a lovely reminder of mum and of the Hospice."
But the dog that inspired the greatest response in the room was undoubtedly Wild North East – decorated by artist Jina Gelder, with the help of some of the children receiving care and support at the Hospice.
St Oswald's had launched a justgiving campaign to raise money to bid for their dog and as bidding got underway, donations poured in from supporters
And, closing the sale at £7000, auctioneer Julian Thomson from Anderson & Garland, said: "Wild North East is going home."
Great North Snowdogs has been the most successful public art trail ever to take place in the region, with thousands of people from the North East and beyond visiting the sculptures over the nine-week initiative.
More than 11,000 downloaded the Great North Snowdogs app – unlocking around 155,000 Snowdogs in the process – and at least 280k people viewed, shared and interacted with the St Oswald's Hospice social media sites each week.
Following the auction, Jane Hogan, Great North Snowdogs project lead for St Oswald's Hospice, said: "The response to this trail has been beyond anything we could ever have imagined.
"People of all ages and from all parts of the country took the Snowdogs to their hearts and their generosity has been truly humbling.
"Profits raised at the auction and from other related fundraising activities will go directly to the hospice and it really will transform what we are able to do for the children – many of whom are very poorly indeed.
"We would like to thank Jason Cook and Steffen Peddie, our event hosts, as well as Anderson & Garland, the auctioneers who gave their services entirely free of charge and made the evening such a staggering success."