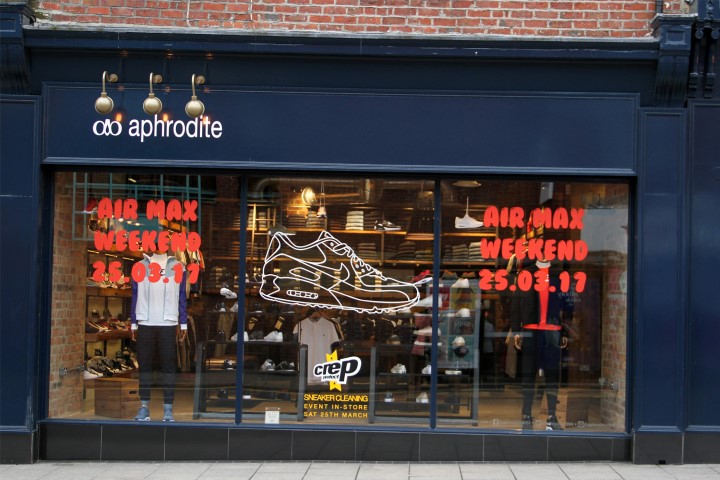 A LEADING North East menswear store is joining a worldwide celebration to mark the anniversary of an iconic sports shoe.
Since 2014, 26 March has been designated Air Max Day by sportswear giant Nike, with lovers of the Air Max 1 trainers worldwide putting their best foot forward and joining in a day of fun.
And now Sunderland's Aphrodite Clothing, at Vine Place, is planning its own in-store event so that lovers of the trainers don't miss out on the special day.
On 25 March the store is running its own sneaker celebration, which will include a visit from the Crep protect team, who will be showcasing the Crep range of trainer cleaning and protection products.
There will even be the chance for shoppers to get their footwear cleaned in style by sitting in the Crep protect throne.
Aphrodite will also be running a range of giveaways on the day, which includes CREP Protect goody bags to the first ten customers who buy a pair of Air Max Trainers, along with a prize draw to win some of the super sneakers.
The store is also planning to have DJs Deja Brew playing throughout the day, along with a pop-up shop providing refreshments by Holmeside Coffee.
Andy Mckenzie, a director of Aphrodite Clothing, said he believed this is the first time Air Max Day has been marked in the region.
"We know that there is always a special event in London but we're delighted that we are able to include the North East in the celebration of such a globally recognised brand," he said.
"It should be a great day and we're looking forward to welcoming people through the doors."
Gemma Dishman, Marketing and Communications Manager of Sunderland BID added that the event would drive business into the city centre.
"This is such an iconic brand and so popular worldwide that we are confident that shoppers will head to Sunderland just to take part," she said.
"It's a great opportunity not just to tie in with a global event but to showcase one of the many superb independent retailers that the city has to offer."