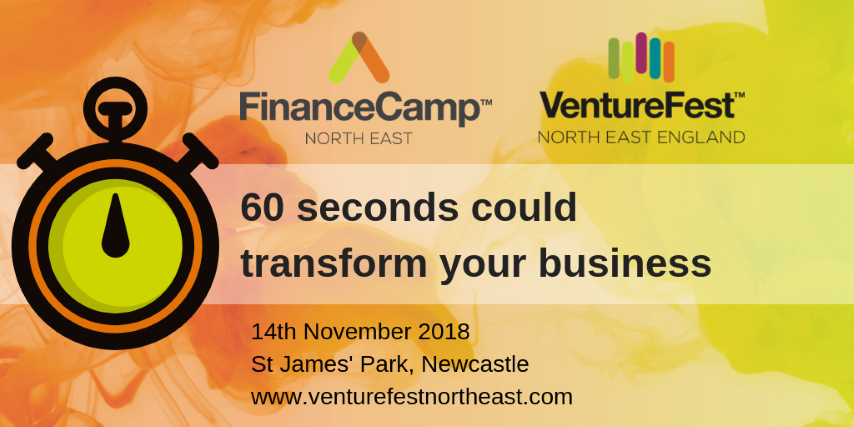 Sixty-seconds could be enough to transform regional businesses with a unique opportunity to secure investment at the region's innovation conference.
The Innovation SuperNetwork, who plan and deliver VentureFest North East, have announced a refreshed approach to the event's popular FinanceCamp session giving businesses the opportunity to attract investment with a series of fast-paced one-minute pitches as part of the VentureFest programme.
Responding to the difficulty regional businesses have accessing the right kind of investment opportunities, the SuperNetwork have taken inspiration from their already successful London-based pitching events to provide a similar regional opportunity for growing businesses and entrepreneurs.
Executive Director, Estelle Blanks, said: "There has been much focus in recent years on helping businesses outside of the London bubble to access the investment opportunities that will ultimately support regional economic growth and job creation.
"Our FinanceCamp programme has successfully brought together investors and businesses for a number of years via an annual conference and satellite events. As our events continue to grow, we saw VentureFest as an opportunity to try something different.
"For the last two years, we have arranged pitching events in London for entrepreneurs from across the north, with many of those businesses securing strong leads and investment as a result. We're taking inspiration from this format to deliver FinanceCamp at VentureFest 2018."
The session will give businesses 60 seconds to present their ideas to a room full of investors before having the opportunity to network with potential prospects. Earlier this year, the format helped two Newcastle-based companies attract several million pounds worth of investment.
NewCells Biotech saw significant success securing a total of £2m from two investors. Mike Nicholds CEO Newcells Biotech Ltd, said: "The Innovation SuperNetwork played a pivotal role in helping us secure investment from NVM Private Equity and Northstar Ventures to support our ambitious growth plans. The support offered enabled us to do a professional presentation in front of a number of prestigious investors."
Pickwatch also saw success securing finance via an angel investor. Founder and CEO, Shaun Lowrie, said: "Working with the Innovation SuperNetwork has been a great experience for us, leading to a dozen strong leads and ultimately investment to support our next stage of growth. The support we received prior to meeting with investors helped us to put together the best possible pitch and really sell ourselves. Any business looking for investment should definitely get involved with the SuperNetwork. It has been a successful experience for us and the start of something great for Pickwatch."
FinanceCamp also seeks to connect businesses with appropriate grant funding and loans. Investor pitches will take place in the morning, whilst the afternoon session will match businesses seeking loans and grants with providers in a series of short one-to-one meetings.
As part of the FinanceCamp programme, businesses are given the opportunity to take advantage of leading pitch experts to refine their proposition for an investor audience and practice their elevator pitch in advance of VentureFest with an 'Understanding Investors' workshop the week prior to the main event.
If you're seeking investment or would like to meet with lenders and grant funders, register to attend VentureFest North East via Eventbrite and answer 'yes' to the question – are you seeking funding? https://bit.ly/2Osknr0
VentureFest North East is expected to attract more than 700 delegates in November.
Keynote speakers include Holly Tucker, founder of Notonthehighstreet, Dr Nick Appleyard, head of downstream business applications at the European Space Agency, and Anne Doyle, head of operations at Skyscanner.
An interactive programme has been developed to enhance many of the elements previous delegates have rated amongst their favourites. This includes a focus on making the most of the event's networking potential through building new and mutually beneficial relationships, the Innovation Showcase, and thematic strands including, manufacturing and healthcare.
The event takes place on Wednesday 14 November 2018 at St James' Park, Newcastle. Registrations are now open at www.venturefestnortheast.com.
VentureFest North East is part of the wider Innovation SuperNetwork programme, developed with around 60 partner organisations to support innovation in the North East. The SuperNetwork is supported by the North East LEP, Northumbrian Water Group, Engie, Reece Innovation, North East BIC and Innovate UK, with part-funding from the European Regional Development Fund.