Chris Nutman | My Cloud Coach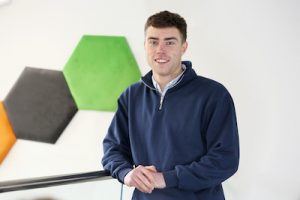 Hi Chris, tell us a bit about your business
My Cloud Coach is committed to increasing the quality and availability of free digital educational resources in poor and marginalised parts of the world through our charitable initiative #DonateADoc. The mission is to teach one billion people to read and write.
What problems does your business solve?
My Cloud Coach was born from research carried out during my Design Engineering degree at Manchester Metropolitan University. I used the opportunity of my final year project to consider how design solutions could help to break down barriers to education. A staggering 15% of the world's population are illiterate and that lack of access to a quality education means more people are likely to remain trapped in a vicious circle of poverty.
When I looked at what was already being done to address this problem, I discovered that current efforts involve shipping text books to developing parts of the world. While this is effective, it's also costly, can be very slow and when the books do arrive, they become worn quickly – especially in hot and humid climates. So, I created #DonateADoc as a new method of charitable aid that enables educators and content creators to donate their valuable digital learning material. There's a huge wealth of information available on the planet – this system brings it together for those who need it most.
The next problem to solve was finding a way to allow the display of this content – even in very rural parts of the world that don't have internet access or mains connectivity. I designed POD, a low-cost, durable, solar-powered projector that displays lessons offline and off-grid. I'm in the process of finalising a prototype now.
Has the Coronavirus crisis impacted on your plans?
My 2020 vision was very ambitious. Clearly things are going to have to follow a different timeline now but some unexpected opportunities have come out of the crisis too. So many teachers stepped forward early on in the pandemic to say they wanted to support children in the UK to continue their learning at home during lockdown and I realised there was an opportunity to tap into this movement to benefit children further afield too. I appealed to teachers to share their resources with us too and launched the document donation platform early in a beta version to test it out, gain some traction and recruit some early adopters. This has worked out brilliantly and will definitely help with the long-term direction of the organisation and has actually fast forwarded the testing side of things.
Why did you become an entrepreneur? What was your drive?
When I left university, I came back to Sunderland and took a job as an Architectural Draughtsman but I couldn't leave this business idea alone. I took a day off work to enter the If We Can You Can challenge and I won! This really helped to validate my ideas and helped me to realise they could work in the real world.
During my work lunch break I used to pop over to the North East Business and Innovation Centre (BIC) to squeeze in meetings with business advisers to discuss my plans. I considered it my passion project but then when my employer went into administration, I decided to seize the opportunity and really make it happen. I am definitely an ideas person and I have an innate belief in myself. I don't think this needs to sound conceited. I think everyone is creative and has the ability to make things happen and I am no different. I work hard at looking after myself – I'm passionate about wellbeing – and I when I feel good I am inspired to take action. Providing I am taking well-considered steps in the right direction, I don't feel doubt or fear. I'm just excited to make progress. I think you need this positive mindset to be an entrepreneur. It keeps you on your path. Experience gained from setting up My Cloud Coach has also led me to set up a creative agency krstocreative.co.uk and an entrepreneur networking event.
Why have you chosen to set up My Cloud Coach as a social enterprise and how is this different from a 'normal' business?
My Cloud Coach is a social movement so the social enterprise business model is the perfect fit. The business's success depends upon the donation of content so it would never work if we were all about making huge profits. This model allows us to put purpose at the heart of everything and the money we do make will be ploughed back into the company to make it stronger and to reach more people. It was quick and easy to set up as a social enterprise so we did that to get going and we've now also established part of the organisation as a charity. This means we have lots of flexibility to attract funding, the support of philanthropists and other likeminded organisations.
Who has helped you to get where you are today?
I've been astounded by the support that's available in my native North East. I've had financial support and guidance from PNE Group in Newcastle, the BIC's Innovation Programme, Voluntary Community Action Sunderland and UnLtd. The Enterprise Place in Sunderland has provided office space for the past 12 months and it was thanks to the Rise and Design events at Design Network North that I met Evolto, the company who are currently making my projector prototype.
The first person I met on my journey though was the BIC's social enterprise expert Kevin Marquis and he has supported me all the way. He has been a fantastic guide. I was really excited to get a space on the BIC's Innovate for Good project, a business incubator designed to grow successful social enterprises. It's a fantastic opportunity and I'm now looking forward to working in the amazing space that's been created at the BIC for the entrepreneurs taking part. It's just the beginning of the project but I've already met some really inspiring and connected people who I know will play a part in the future direction of the business. My coach Lilla Preston is the best thing about it all. She brings a rare kind of energy, kindness, strength and clarity that can only do brilliant things for our businesses.
What's your mantra for business? What guides your decisions?
Take action on your inspired thoughts and ideas but be grounded and focused enough to see them through until the end.
How can we find out more about you?
Take a look at my website and feel free to get in touch. I'm looking for volunteers to help with the next step of our mission and I'm fundraising to get POD prototyped – I'd love to hear from you! hello@mycloudcoach.org www.mycloudcoach.org