Claire Wayman | Sunshine Co-operative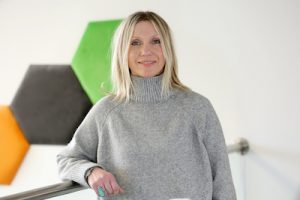 Hi Claire, tell us a bit about your business
We sell locally-sourced, sustainable and organic produce to neighbourhoods across the North East via our website, local delivery service and pop-up events. As much food as possible is sourced within a 30-mile radius of our base in Sunderland and we showcase expert producers within the local industry.
We believe everyone deserves the chance to eat fresh, eat healthily and eat local. Knowing where your food has come from is just as important as the taste. We also want to nourish the area where we live – both economically and environmentally. Our aim is to create a thriving community using food and health as unifying elements.
What problems does your business solve?
The food industry has mostly been delocalised, with huge supermarket chains taking up the lion share of the market. Over the years, this has forced the closure of many small businesses including butchers, bakers, green grocers and the loss of mills, livestock owners, small farmers and artisanal traders.
People have finally begun to react to this and there is an exciting movement to reinstate a pride in everything local. A movement to support local entrepreneurs who lovingly create and craft food for our enjoyment without it having to travel miles to reach us. A movement that ensures money spent with local businesses stays in circulation within the local economy for longer. Pound for pound, spending money in smaller independent local food outlets supports three times the number of jobs than a national grocery chain.
We have lived in other parts of the world and have seen the benefits this movement has brought to those communities. We wanted to bring a little bit of that sunshine to this corner of the globe and that's how Sunshine Co-operative was born! When we moved back to my native Sunderland from New York, we brought with us an ambition to re-create the amazing access we had there to fresh, locally-grown, healthy food sold at pop-up markets. So, we set about creating a system that supports the growing and distribution food in the North-East.
Has the Coronavirus crisis impacted on your plans?
Orders for our food delivery service have sky rocketed! We can barely keep up with the demand from new customers who are looking for ways to buy their food without leaving the safety of home. It seems that the crisis has opened people's eyes to the importance of food sustainability and hopefully people will continue buying locally in the long term. That would be a really good outcome from a dire situation.
Our other plans for the business have been put on hold but we are still determined to pursue them when the time is right. We want to set up a physical shop so customers can visit us because our current base isn't set up that way. By having our own front door and flexible spaces means we can use the shop as a base for training and courses aimed at providing work opportunities and healthy living sessions including cookery and mindfulness workshops. We also plan to develop our own soft drinks with Sunderland-based company Brewlab.
Why did you become an entrepreneur? What was your drive?
It was a combination of necessity and opportunity. I used to work as a senior fashion designer for big brands when I lived in New York. Although I loved the creative side of my work, I grew to really dislike the cut-throat nature of the industry. I was made redundant when I had my second child and after thinking about it, I realised that the break in my career gave me an opportunity to find a way to spend more time with my children. Coming back to be near family in Sunderland gave us the support network we were all missing.
We struggled to find work that matched our skills when we did return and so we started thinking of new business ideas connected to things we were interested in. We'd become passionate about feeding our family with organic food when we lived in America because 80% of their food is genetically modified and we wanted to continue eating well when we came back to the UK. That's when we spotted a gap in the market to create Sunshine Co-operative. Sunderland really deserves to improve and I'd like to help to bring about positive change. I've done a lot of community work in the past and I want to channel my energy into giving Sunderland the support it needs.
Why have you chosen to set up Sunshine Co-operative as a social enterprise and how is this different from a 'normal' business? 
This model reflects our values. We chose to be a co-operative as we believe it provides the best democratic structure. Members can vote and have a say in how we are run. We are a Community Interest Company (CIC) because the aim of benefiting our local community is central to what we are all about. Being a CIC also means that all the profits are ploughed back into the Co-operative.
Who has helped you to get where you are today?
Social enterprise expert Kevin Marquis has been instrumental in the set-up of our business. We first met when he worked at Sustainable Enterprise Strategies and I then followed him to the North East Business and Innovation Centre (BIC) where he continues to be extremely supportive in his role as a business adviser. Kevin is also involved in a project that we recently joined at the BIC called Innovate for Good, which aims to support social enterprises. I cannot put into words the feel-good factor I get from being involved with this project! It really is fantastic.
I've been introduced to a group of other social entrepreneurs and we immediately started finding ways to link ideas together to create bigger opportunities that bring about greater benefit. It's a totally different environment to when other entrepreneurs come together because we aren't motivated solely by profit. There's not the same competition or secrecy. It's very collaborative and liberating. It feels like we can achieve anything.
What's your mantra for business? What guides your decisions?
Some days, you just have to create your own sunshine. That's what we decided when we committed to setting up Sunshine Co-operative and that's what we live by on a day to day basis. You can't always rely on others to find the solutions – sometimes you're the best person to fix the problem.
How can we find out more about you?
Take look at our website https://www.sunshinecooperative.co.uk We've also just launched a crowd funding campaign for our community shop – please do have a read about what we're trying to achieve here.