Arnia Innovation Case Study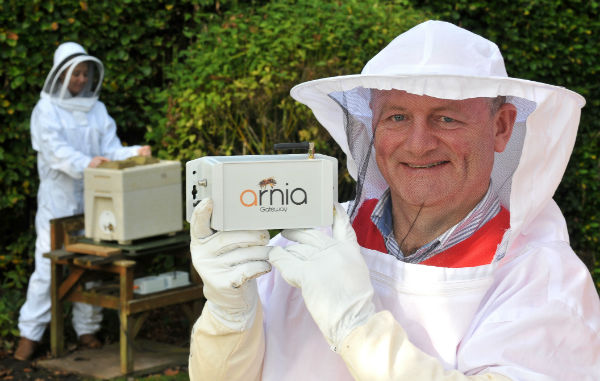 North East based Arnia leads the way in remote beehive monitoring and has turned to the SME Innovation Programme for support with the ongoing development of its ground-breaking product.
Born out of a desire to protect the future of the honey bee, thought to be responsible for pollinating a third of the food consumed in the world, the Tyneside business supplies equipment to universities and research centres, commercial bee farmers and beekeepers around the world, to generate crucial data to help monitor bee activity and condition.
Unique capabilities of Arnia's kit distinguishes it from the competition, including its ability to interpret bees' behaviour through acoustics, producing more informed data to help better understand and address the complex issues impacting on bee health.
The company has innovation as its core and, having gone through a rigorous three year R&D process before coming to market in 2013, made contact with the North East Business and Innovation Centre (BIC)'s Innovation Programme for support and funding towards further development of a highly innovative hive monitoring system with algorithms that can interpret bee acoustics.
Arnia's CEO Mark Jackson, who took over the business in May after advising businesses how to innovate through Knowledge House, is now putting his own advice into practice with his new venture. He said: "Arnia's founder Huw Evans successfully brought it to market three years ago with customers in 25 countries around the world. What is important now is that we continue to build on his original ideas and develop the product to meet requirements around the world"
He added: "We have been able to access grant funding from the Innovation Programme towards the development of new hardware and board design to operate in harsh and remote environments, enabling us to maintain a competitive edge. We see this as an ongoing relationship as we continue to develop new hardware, firmware and algorithms. We also have exciting plans in place to adapt our user interface to bring in an educational element that can be used by schools around the region and beyond."
Elizabeth Shaw innovation manager, said: "Arnia is a unique and exciting business that is leading the way in a highly specialised area on a global stage. The vital data that Arnia's hive monitoring equipment gathers is crucial to the future of the bee population and it's fantastic to be able to help them overcome major technical challenges to achieve a product with a global market application."
The Innovation Programme utilised £724,000 of ERDF investment and was part financed by the European Union's ERDF Competitiveness Programme 2007-13, and currently has new funding available.