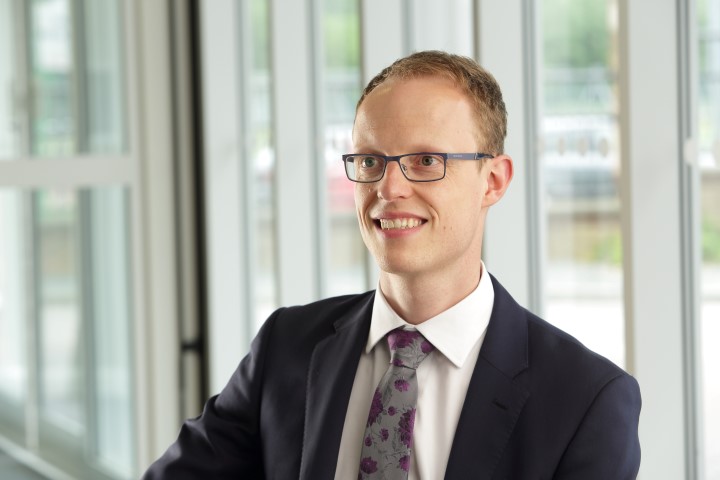 By Jonathan Walker, Director of Policy, North East England Chamber of Commerce
For over two centuries our region has been at the forefront of innovation right from the light bulb to today's pioneering scientific achievements in Newcastle's Helix development.
After the huge challenges of Covid in 2020 we, at the Chamber, decided it was the right time to start the new year with a positive battle cry which shouted about the ground-breaking businesses in the North East and our many advantages.
Under the banner Great Reasons To Do Business in the North East we are running a 12 month campaign to promote what is so unique and conducive to setting up, developing and growing a company here.
Each month there will be a focus on key themes, starting with innovation for January as I believe it's at the very heart of our business community.
Led by my colleague Amber Burney, our campaign will celebrate our successes and ensure the whole region recognises what a fantastic place we work and live in. The messages will also be used to promote us on the wider stage so entrepreneurs, potential investors and expanding businesses, as well as Government, know our strengths.
The list of spaces such as Cobalt Business Park, Infinity Park, NETPark, Newcastle Helix, Integra 61, Quorum Business Park, IAMP and the NE LEP's 31 enterprise zones to name a few are testament to the hard work of our region's ambitious local authorities and developers.
They are complemented by our five national catapult centres, where innovation is supported, which focus on Digital, Energy Systems, High Value Manufacturing, Offshore Renewable Energy and Satellite Applications. The announcement of the UK's first giga battery plant in Blyth, creating 3k jobs is testament to our strengths in this sector.
We are also fortunate to have the UK National Innovation Centre for Ageing in Newcastle, a £40m development bringing together world-leading experts to assist the NHS in improving quality of life as we age.
And as if that wasn't enough to have in our corner, research by IPPR indicates that there is the potential for the North to create an additional 46,000 jobs in decarbonising the energy sector, giving us huge untapped potential. The UK's Clean Growth Strategy estimates that low carbon economy could grow 4x quicker than the rest of the economy and we're at the forefront of it.
What makes our region so strong in the innovation sector is also down to the well-established support for SMEs. We are also extremely fortunate to have Sunderland-based North East Business and Innovation Centre (BIC) in our region which has nurtured entrepreneurs for over 25 years. Their Innovation Manager Gillian Middleton has summed up to me the positive attitude to developing new ventures. "Nothing can kill the human desire to innovate – not even a pandemic. In fact, challenging times like these stimulate growth from businesses that not only need to adapt to survive but that also begin to solve new problems and spot opportunities.
"Covid has meant many businesses have prioritised innovation projects they've had on the back burner and we've been able to provide grants and specialist support via our popular Innovation Programme to propel these plans forward. We've been amazed by the resilience of our tenants and businesses across the region who've pivoted to become stronger and more sustainable by focusing on ways to diversify and do things differently and 2021 promises many more success stories."
North East Business Success
Examples of people who have launched businesses in the past few months include experienced businessman Craig Downs who turned to the BICs Innovation Programme to help bring to market his revolutionary idea – wearable tech that recommends someone's perfect running shoes. Inspired by a personal passion, mymo was an idea Craig knew solved a real-world problem, but one that pushed him out of his own comfort zone and into the realm of product research and development.
mymo measures a runner's gait and uses an Artificial Intelligence (AI) algorithm to match their running style to the latest shoes on the market. He had the idea after becoming increasingly frustrated after getting injured because he was sold the wrong type of shoes for his own training.
He was really keen to make this a product of the North East so wanted to keep any technical collaboration as close to his doorstep as possible. The Innovation Programme provided match funding so he could bring in the support of Northumbria University's computing science department to develop the algorithm. This is where the magic really happens because it's where numbers are turned into a practical recommendation to help runners make sense of the confusing array of products that are on the market to find a shoe that's right for them. The project also resulted in the university publishing an academic paper on the accuracy of the work, which gives customers real confidence in our product.
mymo was launched at the end of October 2020 after four years of research and development.
A fellow beneficiary of the BIC is Jonny Philp when he was within touching distance of the major launch of his startup with high street giant Boots when he also turned to the Innovation Programme for help. Ten years of research and development left just a few final hurdles to clear to finally get Nursem over the line and into the hands of customers.
Nursem is a range of caring skincare products developed with nurses to help combat the effects of relentless hand washing.. The idea was born as a solution to the experience of Jonny's wife and co-founder Antonia had, who'd often come home from her work as a paediatric nurse with sore and cracked hands.
The first part of their project required them to get the seal of approval from a consultant dermatologist on the quality and safety of our products. The BIC funding helped pay for a specialist to put together dossier of evidence outlining their research and methods. The second part of the project involved testing the best way to package and distribute the free product to nurses who needed it in a hospital setting.
They also had the advantage of being featured on the BBC's The Customer is Always Right programme, a show where customers test and score products. Within the space of 24 hours they had generated more sales than they did in the whole of 2019.
They have now begun our mission to export Nursem selling it in six other European countries and preparing to launch in the US and Australia in 2021.
Complementing this innovative spirit we also be promoting our other great reasons to do business such as our culture and tourism sector and digital capabilities during 2021.
Get Involved
If anyone wants to get involved or send us their success story to be part of the campaign they can email policy@neechamber.co.uk