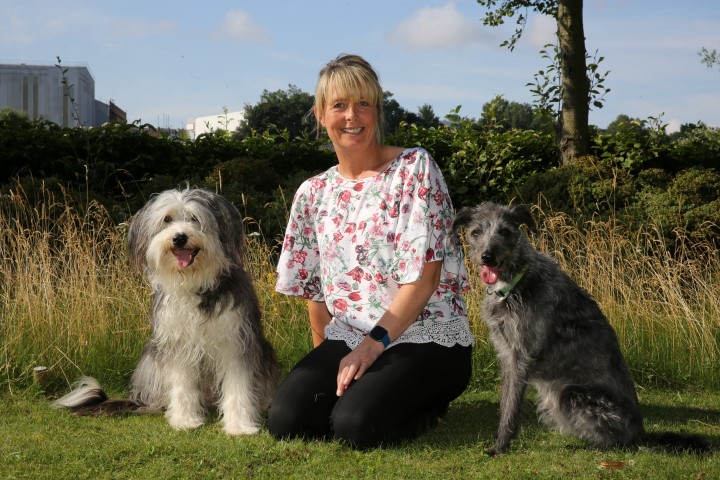 Ever wondered if you should set up your own side-line business, but unsure about the workload?
Our centre manager Donna was just like you until she was inspired during the pandemic to take the lead and follow her dream of becoming a dog trainer.
Having played a key role in helping hundreds of the region's businesses over the past 25 years, Donna is now tapping into the centre's start-up support herself after launching Wear Dogs, her new business which offers obedience and agility training for dogs.
With three of her own – Nora a Bearded Collie, Olive a Bedlington x Whippet, and Fletcher a Saluki X Collie – Donna has been training dogs as a hobby for over a decade and has competed in many shows, including the international dog show Crufts.
However, since launching Wear Dogs in May this year, she has since gone on to work with 56 dogs, delivering one-to-one and group training sessions in obedience and agility at Durham Dogs Dog Training venue on Durham Lane.
Donna said:
"It was always something I'd planned to do in semi-retirement, but the opportunity presented itself during lockdown when I was training a friend's dog and it got me thinking that I really love doing it more than I ever realised.

"It's more about the passion than business growth, I'm being paid for my hobby and it's something I absolutely love."
On juggling a full-time job and her new business venture, Donna said: "I'll never leave the BIC, but I would love to have a healthy balance one day. I'm currently teaching in the evenings and on weekends, but it doesn't feel like work. I get something out of helping people and working with dogs, being paid is just a bonus."
The BIC as an employer is flexible in accommodating what was once a pipe dream for Donna, and she now works four longer days to finish early on Fridays to squeeze in more classes with her furry friends.
She also received start-up support from the BIC to ensure she had everything in place for setting up as a sole trader.
Donna added: "I've worked at the BIC for 25 years but have never been involved in the business start-up side and it was so helpful.
"All the business advisers are very down to earth and dead helpful, and they do go the extra mile. I dealt with Janice [Marsh], who made sure I had everything in place before starting. They're always there to answer your questions, outside of meetings, outside of work hours, they're there. I was up and ready to trade within three weeks."
Janice Marsh, business adviser at the BIC, said: "It's been a joy to help Donna set up her own business.
"Wear Dogs is proof that if you have a passion for something, working full time doesn't have to stop you from giving it a go. Donna is enjoying the results of her hard work and we wish her all the best with Wear Dogs going forward."
Donna was supported through the Enterprise Support in the North East 2 project which is part funded through the European Regional Development Fund.
For more information on the start-up support available at the BIC call 0191 516 6111 or enquire here.