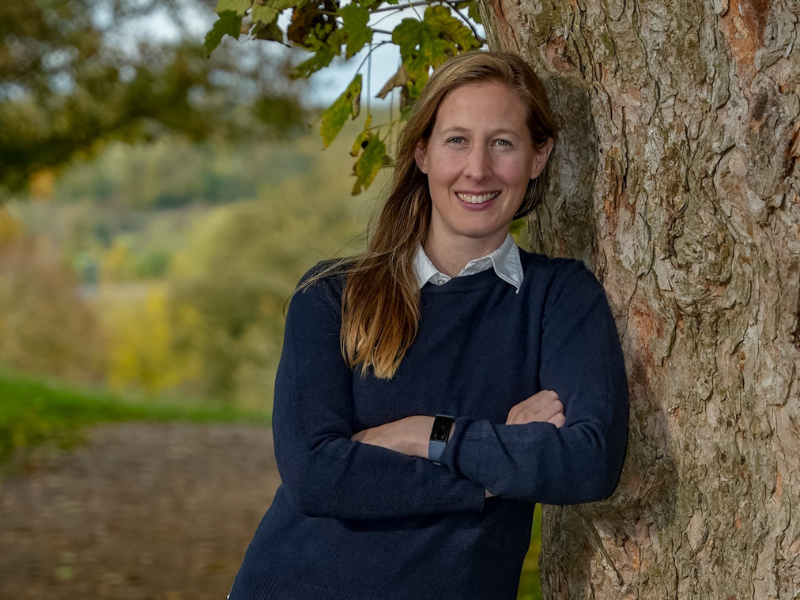 Charlotte Nichols, Managing Director, Harvey & Hugo
Meet Charlotte
My company Harvey & Hugo is based at Business Central and offers three core services: public relations, social media and content marketing. The business name was inspired by my beloved Border Terriers Harvey and Hugo, whose contrasting personalities reflect my flexible approach to business and the adaptable services we offer. Harvey the more sensible, and Hugo, the opportunist!

The team consists of 12 experts, each with their own specialism including graphics, video, blog writing, news and PR. Multi-award winning and with a track record in a wide range of sectors, we boast a strong roster of regional and national clients and we love nothing more than finding ingenious ways to tell their stories.
A business born in a recession
The idea for my business came about in the recession of 2009. I'd worked at a small PR agency and noticed that a lot of clients could no longer commit to the cost of traditional monthly retainers. I recognised a gap in the market for a Pay As You Go alternative. So, at the grand old age of 25, I launched Pay-as-Hugo. Later, I added a retainer option so we could offer more flexibility and 12 years on, we also offer consultancy, strategy development and training.
Early lessons learned
Looking back, I realise now how naïve I was at the beginning. I was naïve to think that clients would always pay on time and I hired too many people too quickly. I knew about PR and was a passionate storyteller but I knew nothing about running a business. I had a bit of an inferiority complex and wanted to pitch myself as bigger than I was from the outset. It also turned out that it was hard to productise PR – although it was a very attractive offer to businesses. There was a reason the retainer was a popular option and I soon added that back into the mix.

But a bit of naivety isn't always a bad thing. Sometimes it can work to your advantage because you push yourself to do things and you just find a way to make them work. After a bumpy start we began to find our stride. We built slow and steady, expanding services along with the expertise in the team. We're now a team of 12 so have added a person a year on average and that has felt about right.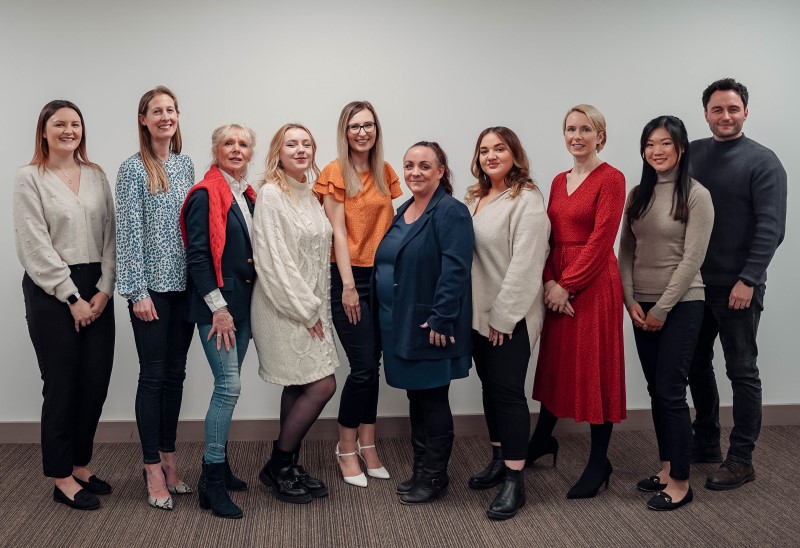 Adding family into the mix
Starting a family didn't come as easily to me as starting a business. It took a few years to become pregnant with our first daughter Cameron, who's now three, and our second daughter Camille, was born through IVF. You can't plan for your business when you don't know what your own body will be doing in the next nine months. When an opportunity came along, I'd wonder, will I be giving birth then, feeding a baby or sitting at my desk?

By the time we decided the time was right for us to start a family, I was totally burned out from work and I was quite ill. I was diagnosed with endometriosis and it turned out I'd been living with lots of undiagnosed allergies. This all came to a head at once in dramatic fashion with me going into anaphylactic shock from a wheat allergy.

I was terribly sick throughout my pregnancies and the experience of IVF was pretty punishing. I ran a business from bed for large parts of 2021/22 and my mental health wasn't the best after all of the drugs and chemicals. But my business got me through a lot of that. It was a fantastic distraction.
The challenge
I feel blessed to have my family and my business but that doesn't mean it's not really tough! I didn't want to admit it to myself at first that I was struggling to balance both. Sometimes I'd feel like I just couldn't win. I'd feel guilty if I wasn't with my kids or guilty that I wasn't with my team. I'd worry about my family's income and the business development side of the company.

And I know I'm not alone. So many women (and men) are suffering in silence. They feel like they have to put on a tough façade and just crack on with it but I think it's important that businessowners feel able to be more open about the challenges involved with balancing family and business. Then maybe we'll find ways to make it easier.
So, here's what I've learned
Everyone's experience is different and I don't claim for one moment to have it all figured out – I'm muddling through each day. But these are my hard-earned experiences that I'm happy to share in the hope they'll help make someone else's journey easier.
Roll with it. Nothing stays the same for long in a young family – it's all just phases. So, I now try to just go with the flow rather than trying to put in place rigid structures that might work today but might not tomorrow. I currently work three days but I also work in the evenings and at weekends. I'll add another day when the time is right.
Integrate work and life. People talk about work life balance and some try to keep things carefully separated but this doesn't work for me – I actually find it more stressful. I take the opposite approach and I blur the lines. I prefer not to consider my work and family as two competing forces, rather they can exist together. In lots of ways my business and family life are one of the same. Afterall, I created both of them. I might have to take a call while baby is sleeping in my arms. That's okay, it's just for now.
Get Mondays right. I'd rather not leave everything banked up for Monday morning. I prefer to dip in and out to keep an eye on things. That way I never have that feeling of not knowing what might be waiting for me or the frustration of having missed an opportunity.
Look after yourself you'll look after everyone else. As the boss, if you prioritise your own health and wellness then your overall resilience will benefit and you can be stronger for others. I'm a big fan of hard work – in business, relationships and families and I'm prepared to put in the hard yards to make it happen but that includes taking care of myself. As entrepreneurs we're natural grafters – we know we'll get out what we put in.
Lean on your team and ask for help. Select the right people who can help you to plan and get where you want to go. My children are always going to be my priority now so I need to be able to have open and honest communication with my team.
Make the most of your position. You're doing this for a reason. Being a businessowner isn't easy but there are benefits so make sure you enjoy them! You might have more stress than if you were an employee but the flexibility is there if you make it. I love to think I'll never miss a play or a sports days. It makes everything worthwhile.
Nurture your company culture (even when you're not there). Businesses are a reflection of their owners. We work hard to establish our company culture and that's what distinguishes us in the marketplace. So, it's vital it continues to be nurtured when we're not around. My team can manage most operational things on a day-to-day basis but I want them to still feel my support and steer even when I'm not there. That's why I've appointed a culture and brand manager to nurture our own business.
Future growth (family and business)
So, what's next? I'll be pouring my energy into growing my lovely girls at the same time as my teenage business! Harvey & Hugo is still on a growth trajectory and that really excites me. I have lots of scale-up plans to get stuck into and I'm starting a Scale Up Academy with the Entrepreneurs' Forum soon.
It looks like we're going into the third recession of my business lifetime but I see recession as an opportunity. We've been here before and know that good businesses can still do good business in such times.