"Public Relations is about reputation – the result of what you do, what you say and what others say about you." CIPR
There are many stereotypes exist around those in the PR profession let's face it this isn't the eighties anymore no big hair, braces and spin doctors…for most of us.
We are in a new wave of PR where social media is integral to any effective communications plan. People gravitate to social media sites for information and interaction, whether it be for entertainment or insight. One thing is for certain, it shows no signs of quietening down. Publicity is everything and there is competition in just about every sector now.
But what if you are a small business, even a one man band and there is no budget for marketing. There are certain proactive steps you can take without breaking your bank.
Be a social networker!
I am a big advocate of social media and the rewards it can bring. My role at the BIC sees me manage several social media accounts and I never bore of looking at the traffic they bring to the website.
Using Twitter's search find your competitors, what are the conversations being about your business or the industry you are in. If you are a total newbie to social media or likewise you are a total whizz at it we can help you. Jayson Gurney, director of The Social Media Consultancy Ltd delivers social media surgeries at the BIC. These informal sessions are a place for people to come together, share ideas and lessons learnt. You can find out more about the events by clicking here.
Blog
Start a blog, not only will it ensure your website is up to date and allow you to attract repeat visitors but it is also the perfect way to enforce brand messages and engage with customers. It would be very neglectful of me to not mention that all important phrase "content is king!" If you can create it yourself perfect but even if writing isn't your strong point have someone look over it for you. Popular ones are Top 10 lists, useful tips and best practices etc.
Network, network, network
I always say there really is no form of publicity better than word of mouth so get yourself out there and mingle! Groups like NECC or indeed the Mussel Club are perfect for meeting with like-minded businesses. Ask what the people you speak to do and really listen to them you never know when they will crop up in the future.
Offer to be a speaker.
Industry conferences, volunteer organizations, libraries, and local business groups often need speakers for meetings. You'll benefit from the name recognition, contacts and publicity.
DIY infographics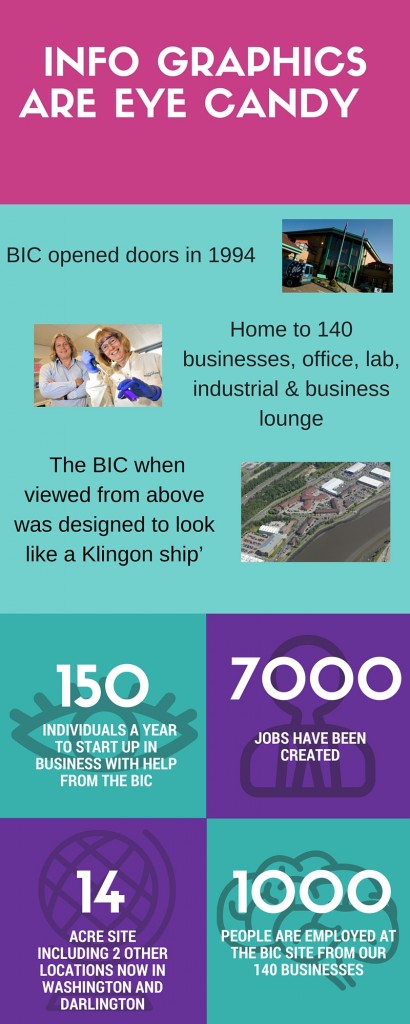 Infographics are powerful tools, think eye candy! Easy to digest and people love to share the. You can make your own on the cheap if you like a challenge. Canva is a great tool check it out!
In it to win it!
Competitions are really popular, yes you will need to think of a prize but the number of participants and potential new leads you get will well be worth the prize…of course it depends on your line of business.  You don't need a fancy gift though, think outside the box.
Of course like anything keep it in perspective. Publicity is a great way to encourage footfall to your business but don't neglect the other aspects. Take risks, be inventive and keep trying!
If you are a tenant here at the BIC and have a story please get in touch on 0191 516 6073.