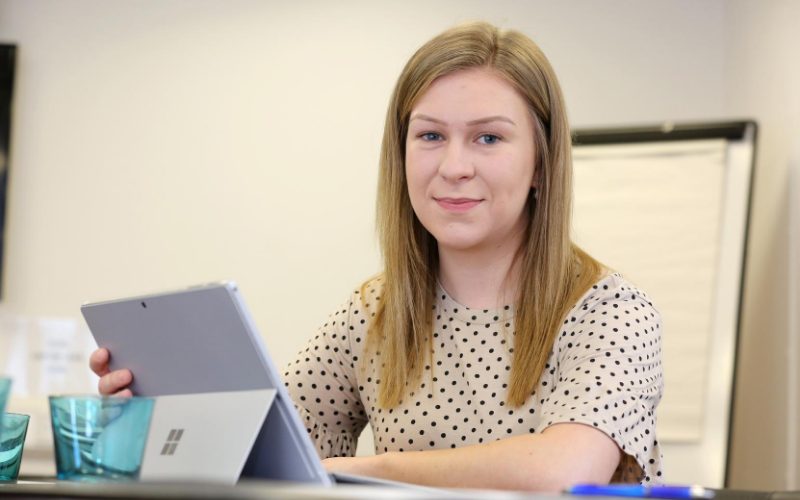 RAW Digital spoke to Joanne Sinclair from the North East Business and Innovation Centre and asked her to share her experiences of working with Sarah, a digital marketing apprentice who had recently completed the RAW Digital Talent Academy.
What role do apprenticeships play in your workplace culture?
"At the North East BIC, we're dedicated to supporting the next generation and we've worked with a variety of education partners over the years to promote apprenticeship opportunities.
"When the vacancy for a Digital Marketer became available, taking on an apprentice was an obvious choice for us. It's a fantastic opportunity for us to nurture talent and provide the apprentice with valuable experience, which they can go on to use for the rest of their career."
How has Sarah settled into her new role?
"Sarah has been in her role as a Digital Marketing apprentice for seven months now. Her role has evolved so much since she first started with us, and this is down to the training she has received from RAW Digital and her apprenticeship training provider, Baltic Apprenticeships. She's also gained a lot of experience and skills through her day-to-day activities at the BIC. She's developed more confidence and doesn't hesitate to question decisions or make suggestions – which is vital in a busy marketing team."
What impact can apprentices have on an organisation?
"Young people can offer a fresh perspective and it's been very beneficial for us to hear Sarah's thoughts and have her involved. Her training with Baltic ensures we're considering the latest marketing trends and techniques to help promote our business."
How did the RAW Digital Talent Academy set Sarah up for success?
"The RAW Digital pre-apprenticeship scheme gave Sarah a great start. Sarah impressed us from the very beginning during her interview. She already had some understanding of digital marketing and had used her initiative to develop these skills. It was obvious that Sarah was keen to learn and the RAW Digital introduction meant she could hit the ground running and start sharing her knowledge with the marketing team immediately."
Start your apprenticeship success story with RAW Digital and Baltic Apprenticeships
RAW Digital work closely with local employers to ensure that their pre-apprenticeship training programmes set our candidates up with the essential skills and behaviours that businesses need – now and in the future.
The RAW Digital Talent Academy offers North East 16-24 year olds the opportunity to build their knowledge and explore local career opportunities within Digital Marketing, IT Support, or Software Development. Over the 2 week Academy, candidates are able to develop their technical knowledge as well as soft skills to allow them to hit the ground running in the workplace.
After the programme, the employers RAW Digital work with are given the opportunity to interview successful candidates, with the option to enrol them onto a Level 3 Apprenticeship programme with their trusted provider, Baltic Apprenticeships. To secure a new recruit from the upcoming Talent Academies, or to find out more about how apprenticeships could fit into your workforce development plans, please get in touch with RAW Digital!
Original article posted here.