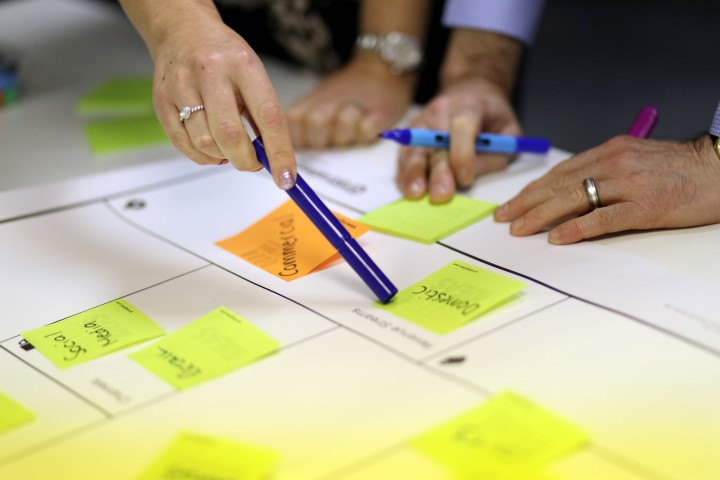 So, you've got a brilliant business idea but you're unsure how to make it a reality. The next step is to create a business plan, which is essentially a roadmap of how you want to structure and grow your business.
No matter your industry, a business plan is essential to solidify your strategy and inform future decisions. And it's not just for start ups, established businesses should also revisit and review their business plan from time to time to make sure they're on the right path and teams are aligned.
If you've never written a business plan before, help is at hand! We asked our BICStartUp advisers – Ron, Janice, Hina, Debbie and Louise – to share some of their tips on creating a winning business plan, and here's their top 10… 
Let your personality shine through
Your business plan should be interesting and really reflect the culture of your business. Talk about your background and why you want to start the business, so potential stakeholders and employees can get a feel for who you are.

Conduct market analysis
You need to understand your industry, the future potential for your business, as well as any risks in the wider market.

Research your competitors
Researching your competitors is essential when creating a business plan, so you can highlight how you will rise above them and what your unique selling point is.

Define your product or service
It's important to accurately define the product(s) or service(s) that your business will offer to clients and customers. The fundamental purpose of a business plan is to set out what you do, who for and for how much.

Identify your target audience
Include a breakdown of your customer profiles into targeted groups (location, age, gender etc.) and speak to them about what they are looking for, their expectations and how they would go about looking for the product or service you are offering.

Identify how your business will operate
Your business plan should identify relevant insurances, licences and permits, to ensure the business is fit for purpose and trading.

AIDA
It's about AIDA, creating Awareness, generating Interest, building their Desire, that then leads to an Action to purchase. Your business plan should explain how you will be able to satisfy your customers effectively and profitably.

Identify your timeline
It's a good idea to outline the timeline you're working towards and how long it will take to execute your plan.

Share how you will promote your business
Marketing your business effectively is crucial if you want to attract and retain customers. Consider a marketing SWOT analysis, to identify your strengths, weaknesses, opportunities and threats.

Don't make it long-winded
And finally, stick to the point and use concise language. If your business plan is long-winded, it will likely be pushed to the side and forgotten about.
If you would like to speak to one of our expert advisers and get support creating a winning business plan, then don't hesitate to get in touch.
Whether a full-time venture, side hustle or part-time lifestyle business, we can help get your business off to a flying start with our free fully-funded workshops and business support.
Call 0191 516 6111 or send us a message.