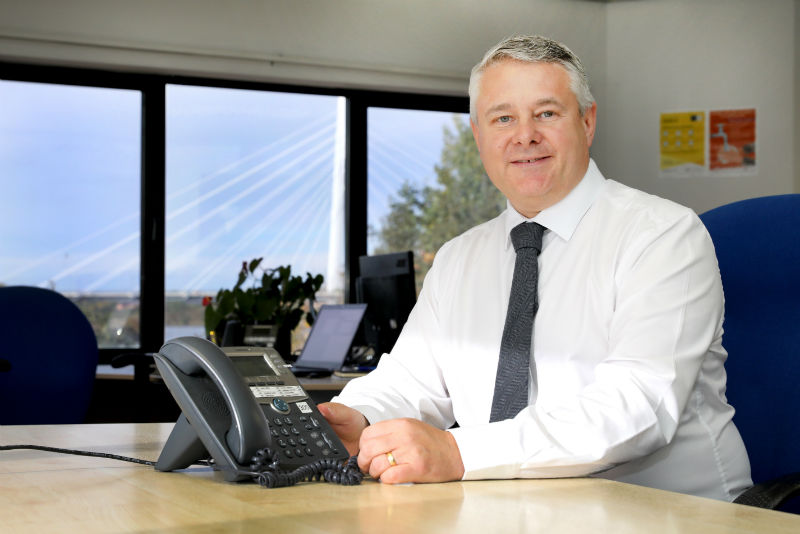 Approved Mortgage Solutions has been trading for 12 years. We are whole of market mortgage advisors – which means we have access to every mortgage provider when it comes to finding the best residential and commercial mortgages for customers. When I first moved the business to the North East BIC from its original base in Newcastle, I set up in one of the incubator units on site. We then expanded to a suite in Anderson House and when we outgrew that we moved into our current home at the Slipway Centre. It's a fantastic place to work – we call it The Penthouse! Our office is at the very tip of the arrow-shaped building and has incredible views of the river and the Northern Spire Bridge. It's an amazing position to watch the changing skies and weather, rowers on the river and we even have a resident seal who keeps us entertained.
How important are reliable telecoms to your business?
Telecoms are massively important to our business. The complex nature of the financial products and regulations that we deal with on a daily basis require personal conversations with banks and lenders. Email communications are usually very generic and don't give us the level of detail and specifics we need to discuss. Nothing beats a telephone call for that. Many customers also still prefer to use the phone rather than electronic communications so it's important to provide that choice.
What were your reasons for signing up to the BIC's TaaS online phone service?
We moved over to the BIC's digital telecoms services two years ago from their analogue service to get more flexibility. We knew the enhanced functions offered would make a big difference to the way we operate. As a financial services business we are bound by regulations to have plans in place that ensure business continuity in the case of something like Covid. At any one point we have about 100 customers mid-mortgage so we have a lot of money and responsibility on our shoulders. A solid plan for our telecoms is a big part of our crisis management planning. Within 20 minutes of lockdown being announced we were set up to work from home.
Which features do you find most useful and why?
During lockdown the flexibility of the phone system was invaluable. The admins and advisers took their handsets home and simply plugged them into their router. It was seamless for anyone calling the office – there was no interruption to the service offered. When a call came through, the system diverted it to the team at home – ringing around in a programmed sequence and moving on to the next person if someone wasn't available to take the call. This meant we didn't lose any calls or miss any conversations. We know lots of other businesses that don't have this system and things worked very differently for them. Their customers simply got a message to say the office was closed and were asked to email or there would be one person manning the office alone. Either scenario isn't ideal from a customer service or an employee satisfaction point of view.
Even before Covid, the system made things run so smoothly. Our office closes at 5pm but many clients and banks call late and the out of office function records the call. We don't even need to physically go into the office to check the message – the system translates the clip into an email and sends it to us. We can then drop it into a file and keep it.
Can you estimate how much you save on your phone?
We've saved around 40%, however, it's about more than savings alone. This system gives us peace of mind in very uncertain times. It means we can go forward with confidence.