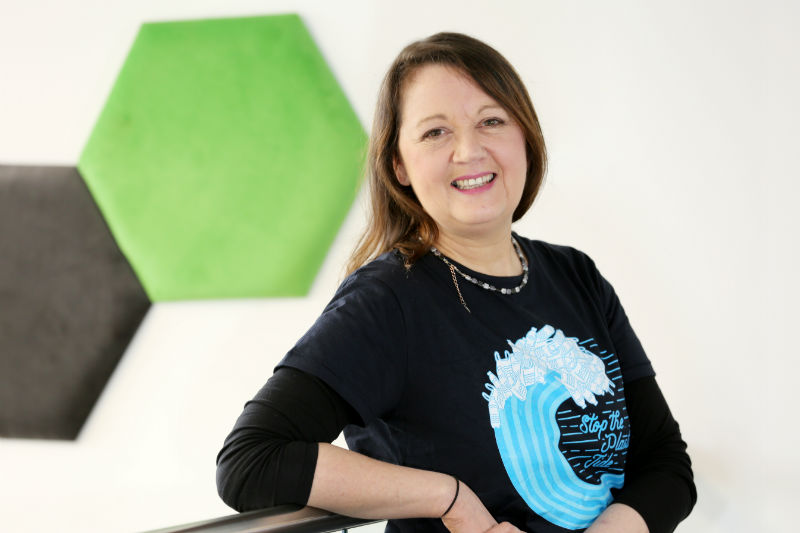 Hi Sharon, tell us a bit about your business
I run Climate Action North with fellow Director Jennifer Clair Robson. We worked independently on a wide variety of climate change issues before deciding to pool our knowledge and experience. We work with businesses, communities, educators and individuals, and run a range of projects designed to take action in light of the climate crisis facing us all. These include pollinator parks, school initiatives, rewilding advice and events, litter picking and beach cleans. The next leg of our journey is focused on developing eco-therapy services, designed to help people survive this eco-emergency.
What problems does your business solve?
Thankfully, the world is waking up to our eco-emergency and our services are geared to helping people mobilise efforts to make a difference. A side effect of this increasing awareness of the escalating climate crisis, is a growing feeling of helplessness and hopelessness. Many people feel completely overwhelmed by the scale of the challenge and an increasing number are seeking treatment for the emotional distress, anxiety and grief this causes. We want to provide the support they need to help themselves and to help the planet. This is where eco-therapy can help. Eco-therapy is pretty much what it sounds like. It's using activities, whether gardening, walking, exercise or prolonged periods in wilderness to help people reconnect with nature. They are all united by the concept that exposure to nature will improve our wellbeing and healthy living.
Why did you become an entrepreneur? What was your drive?
I became an entrepreneur because I wanted to have full control over how I spend my time. I've been a passionate environmentalist since my early teens – it's something I am obsessed with because it is so incredibly important. By setting up a business to address the climate emergency, my passion has become my work and vice versa. I just could not live with myself if I wasn't doing something every single day to make a difference. As an entrepreneur I have no-one to answer to and as a social entrepreneur I don't have to make any compromises when it comes to the direction of my work or the choices I make.
Why have you chosen to set up a social enterprise and how is this different from a 'normal' business?
Jennifer and I have had long and fulfilling careers working in the sector, offering consultancy services to organisations wanting to make a difference to their local communities, often to meet their Corporate Social Responsibility (CSR) goals. Setting up Climate Action North as a community interest company is a way for us to extend our impact. As a social enterprise we are structured differently which means we can attract different types of funding and reach more people. We put the profits we make back into the business to continuously grow and improve. This is my way of giving something back and achieving my own personal objectives. This element of my life is my own therapy, it gives me relief to know I am making a positive impact on our own little corner of the world.
Who has helped you to get where you are today?
I owe my thanks to my mentor and friend Anna Lisa Mills of True North Sustainability as I wouldn't be an environmentalist if it wasn't for her professional support over the many years we've known each other. And of course my Co-Director Jennifer Clair Robson who has been a key partner in achieving the success of Climate Action North since we set up the company.
I have been fortunate to work with the North East Business and Innovation Centre (BIC) and Social Enterprise Manager Kevin Marquis who helped us to set up our social enterprise. Both have been extremely supportive and helpful to us in running and growing our social enterprise.

We joined the BIC's Innovate for Good programme to really fine-tune our eco therapy services, a new initiative offered through Climate Action North and so we can help as many people as possible. We know climate anxiety is a growing issue, especially with younger generations who are feeling the pressure to fix problems caused by the past. The incubator will provide us with an amazing chance to collaborate with lots of likeminded people and make some brilliant connections who will help us to reach more people with a louder voice. The entrepreneurs taking part have all overcome great personal barriers and because of that bring great strength and passion. I'm really excited to be part of this collective of great people who are rising to the challenges of today's world.
What's your mantra for business? What guides your decisions?
The time for talking is over – today we need to act. This is our Climate Action North call to action for the world but it's also the way we like to operate in business. It's good to give things a degree of consideration but there's only so long you can think and talk before you need to just get on and do it!
How can we find out more about you?
Take a look at our website and feel free to get in touch to find out how we can work together http://www.climateactionnortheast.org.uk/