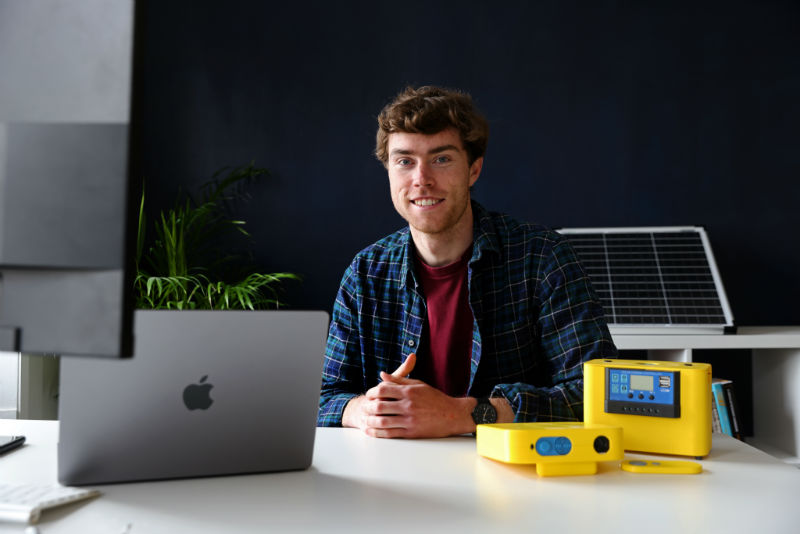 Global Teacher is on a mission to supply digital educational resources to millions of people in the poorest parts of the world. It will do this through its ground-breaking Pod device – the world's first low-cost, 3D printed, solar-powered projector – which was invented by Chris.
When asked what drives him, Chris says: "The only way I want to spend my life is doing something worth doing, using all my skills to be of service. That's why I embarked on this journey."
What inspires you? It's an itch I have to scratch, ever since I learned how many millions of people in the world are excluded from education. I'm three years into a roller-coaster journey of pure elation and exhaustion; a period of my life which has included developing the off-grid Pod system, setting up an online platform where educators and publishers can donate digital resources we can share through Pod, and getting the organisations, which are both CIC and CIO, established. Now we're winning investment, building a team at our new HQ in Sunderland City Centre, and beginning to liaise with charities which will distribute the Pod and the learning materials worldwide. And that means all the exhausting work is beginning to pay off.
Why does the world need Global Teacher? Because at the moment, the only way to get teaching resources to the world's poorest communities is by shipping textbooks or donating tablets. That's expensive, it takes a long time, and remote communities often can't be reached anyway. Very often, they don't have power to charge tablets, and books are quickly damaged in hot conditions. So despite these efforts, millions of people worldwide still cannot access education.
Global Teacher was born from research carried out during my Design Engineering degree at Manchester Metropolitan University. I used my final year project to consider how design solutions could break down barriers to education. 15% of the world's population are illiterate, and lack of access to education means millions are trapped in poverty. It seems obvious to me that instead of shipping books around the world or donating tablets to communities with little or no electricity or wifi, we should be sharing digital material which can be accessed offline and off-grid.
Our solar-powered projector, Pod, is durable, low cost and doesn't need the internet or a mains socket. We've created an online platform where teachers and publishers can donate, and at the receiving end, teachers in-need can browse and select resources. We're working to make the service as versatile as possible, supplying quality materials which are culturally appropriate and available in a range of languages.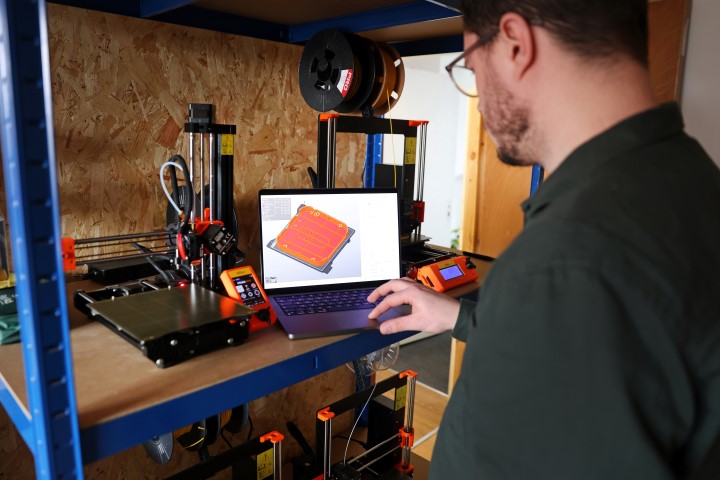 What stage have you reached in the project? We launched the product in December 2021 and we're planning to go to Kenya in 2022 with the North East-based charity Coco to look at taking it there. We're also talking to partner organisations in Lebanon, South America, Colombia and other parts of the developing world; anywhere where there's a need for education and there's sunlight to charge the Pod. Small organisations can also apply to us direct, as can schools and businesses in the UK which support overseas communities. We'd also like UK businesses to sponsor projectors.
Who or what in your life has most inspired you? My granddad was a huge inspiration. He was a gentleman, grounded in right and wrong and very loving. I've also always been inspired by ideas to solve problems in the world, and I've found that once you start on something like this, it takes over.
The first person I met on my business journey was the BIC's social enterprise manager Kevin Marquis and he has supported me all the way. I was excited to get a place on the BIC's Innovate for Good business incubator project. Through that, I've met some inspiring people who I know will play a part in the future direction of the business. My coaches, the late Samantha Chapman and the BIC's Lilla Preston were the best thing about it all. They brought a rare kind of energy, kindness, strength and clarity that can only do brilliant things for our businesses.
How would you describe yourself? I guess I'm unorthodox, not afraid to open up about myself and be bold. I think everyone has the ability to make things happen and I'm no different. I work hard at looking after myself – I'm passionate about wellbeing – and when I feel good I'm inspired to take action. Providing I'm taking well-considered steps in the right direction, I always feel doubt or fear – but beyond that I'm just excited to make progress. In fact, for me silencing doubt and fear have been and still are the very essence of the journey internally.
I think you need a positive mindset to be an entrepreneur and mental health is another big passion of mine. I have a wish to help people out of their own mental health issues, and that ties in with what I'm doing.
What's been your most important turning point in your journey? I've had issues with my mental health, and I think when you're going through something very difficult and you manage to withstand it, you develop a different kind of resilience. I learned there's a metaphorical pot of gold on the other side of my struggles, whether it's something I seek or a breakthrough. It's said that the most successful people are so because they have good emotional health. Those people are leaders in emotional regulation and that's what sets them apart from everyone else.
What's your wish for the world? A more united humanity. When I was younger, I was a very anti-establishment, but now I've embraced the process and systems we have, because I think we are where we are, and we're doing the best we can. This is our life and times and yes, there is a lot wrong with it, but it's about trusting humanity. I think that rather than being separated and disillusioned, we need to get back into a united mindset in the world.
What gives you the most satisfaction? I love everything we're doing. I like pitching the idea, I like designing Pod, our new office and I like telling the story. I love coming up with new ideas, and I like building the team. I like the orchestration of all of the pieces coming together into one big vision with many moving parts. And what I haven't experienced yet is putting a Pod in front of a classroom. That will be quite a moment.
If you would like to speak to the BICSocialEnterprise team about support for new and growing social enterprises, contact us on 0191 516 6138 or read more here.