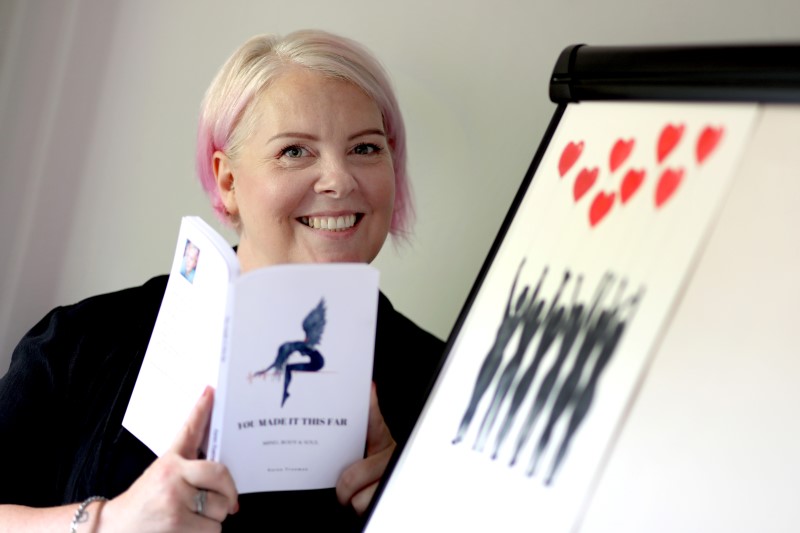 Inspirational artist turns author with tales of trauma
A SUNDERLAND artist turned author has published her first novel to help people cope with grief and loss.
Karen Trueman made headlines in 2019 when her start-up business, KT Heart Art, led to people across the globe channelling their inner artist by painting random, joyous messages onto stones and hiding them in sporadic public places for people to find.
The campaign, which coincided with the launch of her own art gallery and gift shop selling heart art merchandise inspired by her personal trauma of losing her sister a year earlier, saw thousands of stones hidden across the globe from the US to Australia and across Europe.
Fast forward three years and Karen is now treading a new path and helping others turn over a stone with the launch of her first novel, a book of poetry and prose illustrated by her brand KT Heart Art.
'You Made it This Far: Mind, Body and Soul' features stories of her own trauma, from grieving the death of her best friend and sister to overcoming depression and infidelity to tales of her family's experience of self-harm and battling alcoholism, the book is a touching family affair aiming to help others deal with personal trauma.
She said: "I'd always said to people 'I should write a book' so after running into family troubles and being forced to give up my shop I decided to do it.
"The art business had been doing really well up until that point however I put everything on the backburner and closed the store and gallery in order to deal with some family issues that naturally needed to come first."
After the breakdown of her marriage, Karen started writing to express her emotions and would later use writing to help her deal with her own unhealed trauma. She started writing poetry and prose in June 2021 and put together her first book that she self published in May 2022.
"I'll never forget my business adviser at the North East BIC explaining to me that, 'if you don't know something, you can always learn it' and so I heeded her advice and did just that. I spent hours on YouTube, listening to how other authors forged their careers, and decided to just do it."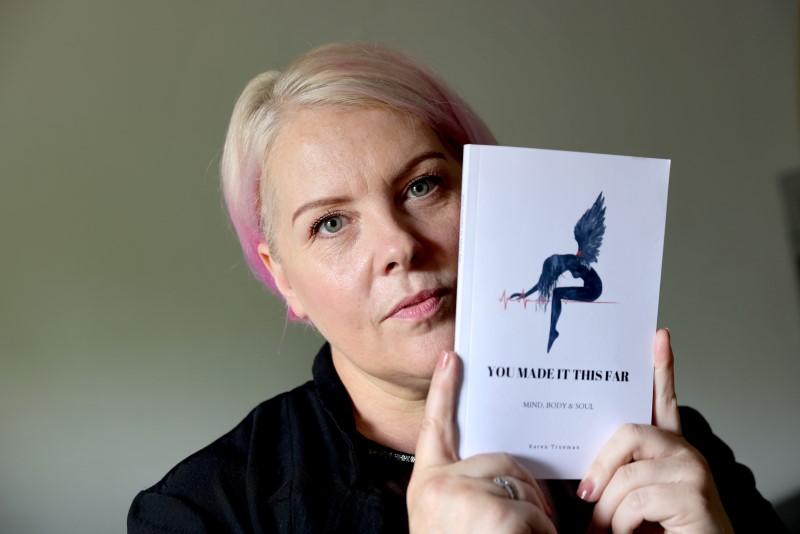 Conscious of family bias, Karen was keen to receive some impartial, honest reviews prior to publishing the book and issued a series of copies to critics to huge acclaim, with the vast majority proclaiming how touched they were by the book and how a few were 'reduced to floods of tears'.
"A lot of people don't talk about the traumatic experiences that impact their lives and as a result they really struggle to deal with them," she added. "By publishing this book and sharing my truth I'm hoping I can help change that.
"I've been there. I've been afraid to talk about my problems. Self-harm and suicide are just one example. They are such taboo subjects that even those closest to you may be having suicidal or dark thoughts but are often too afraid to open up and talk about their suffering.
"I'm hoping that people who have been in similar scenarios and have struggled with life events read my book and connect sharing how they overcame their challenges and turned their lives around. The hope is that the book can help others realise that there is hope and healing at the end of trauma. There's always light at the end of the tunnel and no matter how dark the night, there's always a brighter day that follows.
"There's so much evil in the world that life can be so difficult at times and I just want to try and help people the best I can by sharing my struggles and being honest about the stages of grief. If I help one person, it'll all be worth it."
Karen is now planning a launch for her book as well as picking up where she left off with KT Heart Art, and hoping to once again open her gallery and gift shop.
Gillian Middleton, business support manager at the North East BIC, said: "Karen is a real inspiration and is proof that no matter what you've been through, if you have the
determination and right mindset, you can achieve anything and can overcome any challenge.
"We're delighted to have supported her on her journey and are looking forward to continue supporting her as she returns to her art business and begins trading again. She really is an inspiration."
The book officially launched on 16 July, and is available to buy in paperback via Amazon at: https://www.amazon.co.uk/gp/aw/d/B0B2V1YCFY?ref=ppx_pt2_mob_b_prod_image