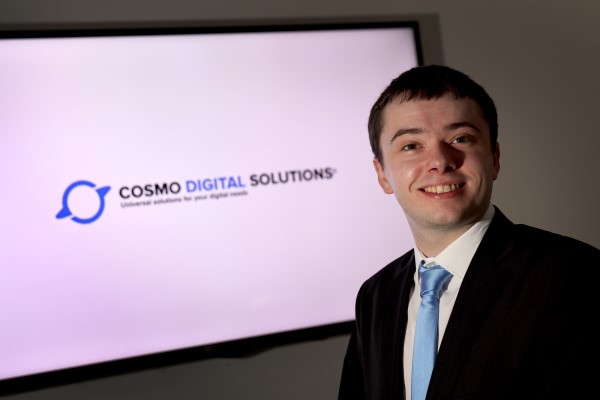 New digital agency hails super-fast support
A young North East entrepreneur has hailed a 'super-fast' business support programme after his newly founded digital agency hit the ground running.
Christopher Marshall launched his new business, Cosmo Digital Solutions, in March after a decade of experience in web development.
The company offers a wide range of services including web hosting, web development, data migrations, consultations, training, search engine optimisation and technical support.
Having seen first-hand the pitfalls that many organisations face when it comes to online security, Christopher was keen to set up a company that could help small and medium sized businesses access the high quality of support usually exclusive to larger businesses.
"One of my main focuses is on the security of websites and how important that is in the modern age," said Christopher. "This is particularly prevalent post-covid with more and more businesses operating purely online.
"Throughout the journey I've realised that there are so many Content Management Systems (CMS') out there and so many platforms that are incredibly vulnerable because the code is poorly developed and the security is very weak making them insecure, as far up as global brands.
"I've been in the industry, I've seen everything that shouldn't be happening but is and I decided to do something different and set up my own business and go in my own direction, ensuring that things are always done properly.
"We don't just provide basic, slap-dash websites that are created in five minutes, but they are websites that take time and are tailor-made with the client in mind, so they achieve the best possible output."
And Christopher has plans to grow the business to allow more organisations to benefit from his company's expert knowledge. He said: "I want to scale the business to a size where we're seen as the trusted authority for the services we provide.
"I would like to get to a point where we have dedicated experts in every field and we're seen as a credible voice in the industry, as there's such a lack of access to technical skills and knowledge.
"I want people to know that there is somebody there who can be trusted and has the experience to know what they're doing in terms of website security because I think there's such a gap in the industry at the moment. So many web development companies don't understand the whole quality aspect."
Christopher started the business with support from the North East BIC, including attending start-up workshops and working with experienced business adviser, Ron Anderson.
"Ron has been absolutely amazing, I couldn't have asked for a better adviser," said Christopher. "He's been there for me every time I've needed him on every single issue.
"He took me through the whole process of writing a business plan and all the stages of setting the company up.
"He has so much knowledge and experience it's been great to tap into that and get advice along the way when I've needed it."
Christopher added: "I would say anyone thinking about approaching the BIC for support should go for it because there's nothing to lose and they can only gain. It's amazing how far you can go in a short space of time when you have the right support. I've only been trading for a few months but I'm light years ahead of where I would have been without that support."
Ron said: "It's fantastic to see Christopher get his business up and running and see him realising his goals. It was a pleasure to work with him to help get it off the ground and I look forward to seeing how it grows in the future."
Christopher was supported through the Enterprise Support in the North East 2 project which is part funded through the European Regional Development Fund.
Thinking of starting your own business and being your own boss? Contact the BICStartUp team on 0191 516 6111 or click here to find out more about the support available to you.