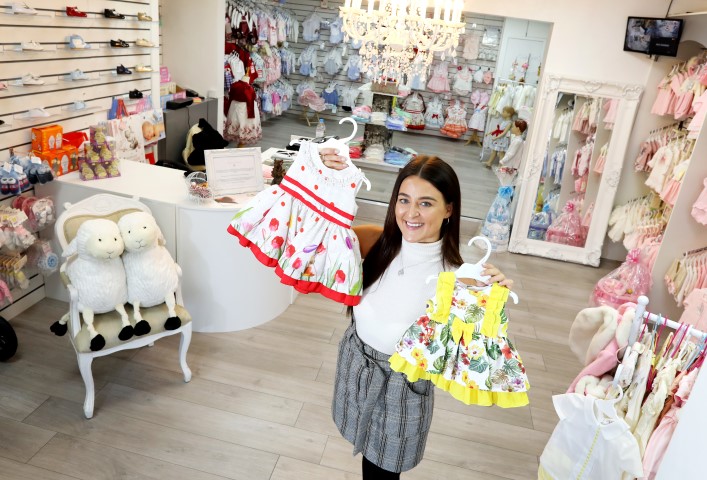 Sunderland-based Nicol Lamb had always dreamt of opening her own baby boutique and did just that in December 2018 when she launched The Little Lambs Boutique in the city.
Nicol celebrated her first successful year in business just a few months before the UK went into lockdown. With restrictions easing and Covid-19 forcing new ways of working, we catch up with Nicol to see how her business has developed since opening and what it's like to be an entrepreneur during such uncertain times.
Why did you become an entrepreneur? What was your drive?
Pretty much my whole family are business owners, so it is something I have always grown up around. Seeing their success and determination to make a good life for their family by doing something they enjoy was inspiring to me. Although it is extremely hard, there is something about building something from scratch on your own that is just so rewarding. I love that I can be my own boss and build things the way I want from researching the industry. Then whenever you start to doubt yourself you look at how far you have come already.
How has your business changed since you started?
At first we didn't have much boys clothing as I found it hard to figure out what customers really wanted, therefore, I wanted to start off small. Now from research and observing which styles sold best for us, our boys collection sells great and I always get so much great feedback from it. We now stock girls clothing up to 8 years because so many people asked for it and we have taken on many new brands which I love working with. Our online store has taken off which is amazing as this means we can expand our custom out of Sunderland too. We have so many regular supportive customers now, some which have been with us from the very beginning. It's amazing to know that people you only just met on this journey believe in you and your products with a genuine love for your store.
What support did you receive from the BIC?
I honestly could not have done this without the support from BIC. From the very beginning and ever since their guidance has been extremely helpful. My business adviser Margaret helped me set realistic goals and create a business plan which would help me secure my start up costs, she pointed me in all the right directions. Even now whenever I have any questions, I know I can always drop her an email for some advice, and she has come to visit the store many times. At the start of the pandemic Margaret reached out to me to see how I was and offer as much guidance that she could regarding the situation of having to close our store, the BIC always show that they really care about small businesses.
Who else has helped you along the way?
My family and friends have helped me get where I am today, I have no idea what I would do without them, I feel incredibly lucky to be surrounded by such supportive people. My parents are there to talk me through when things feel tough, their knowledge of running their business 'Homestyle Upholstery' for over 30 years is so valuable to me. They have already been through most things I will face so I know they can try guide me in the right direction. My friends are my biggest fans they constantly share my work on social media, recommend me to friends/family and even buy from me where they can, they have been amazing.
What's your mantra for business? What guides your decisions?
The store's experience, current performance and growth are what guide my decisions. You have to trial and error a lot, you'll find out what works and doesn't work for you, how can you be different? What can take your business to the next level? Trying to always have a positive mindset is so important. If you do not believe you can do something then you never will, manifest the things you want.
Has the Coronavirus crisis impacted on your business?
The Coronavirus crisis has been a scary time for everyone, I'd be lying if I said I wasn't petrified of what could happen with work. But I thought to myself, I can either sit here and cry about it or try make good of a bad situation, how can I try make this work? How can I still be there for my customers? With so much time on my hands I could concentrate on trying new ways of work, I could be more active on social media and email marketing. I decided to offer safe free delivery to local customers, babies grow so fast therefore their wardrobe is essential and forever growing. I reached out to grow our team of baby ambassadors, I now have an amazing set of mothers and babies who genuinely love our store and help promote us, I am extremely grateful for them all along with our other new and regular customers.
Things have been hard; we sell a lot of occasional wear and unfortunately a lot of occasions have been cancelled this year making it harder for us to sell some of our stock. Pre orders had to be paid for as we plan everything a season in advance and we also knew our suppliers would be struggling so we wanted to be there for them too. Usually we go to view and order our stock in advance and sadly this has been impossible as the events have been cancelled making it harder to order stock over email and catalogues. Some pre orders for the next season have not went ahead at all as brands have decided not to go ahead with the new stock due to the virus.
Since lockdown restrictions have eased and opening back up we have put many new measures in place. We only have one to two families in at a time depending on whether it's safe to do so and if more than one couple enters, we have a one-way system in place to avoid contact. Hand sanitizer is provided on entrance and exit, we are wearing masks and have a desk shield along with extra cleaning of regular touch points. It's strange and things don't feel normal right now but we know it has to be done and we want our customers to feel as comfortable as possible.