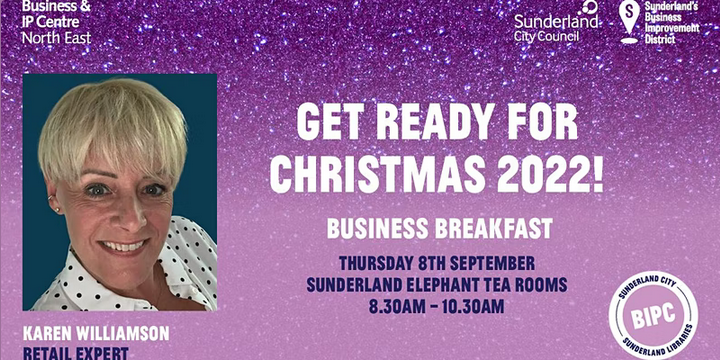 Calling Sunderland retailers!

Join our Breakfast Brunch on Thursday 8th September. Find out how you can transform festive sales using the latest consumer insights and buyer behaviour.
For local businesses operating in the retail sector, the festive season is fast approaching, and time is of the essence to plan your sales and visual merchandising activity, not to mention stocking the best festive products geared to fly off the shelves!
Join our interactive and enjoyable local business breakfast at the celebrated historic building, Local History Library @ETR, situated in the heart of Sunderland City Centre, Thursday 8th September and put the sparkle back into your seasonal sales using the power of market research!
At our Business Breakfast, attendees will:
Discover hot gifting trends and consumer buying behaviours for this year's festive season utilising Mintel.
Tap into need-to-know advice on preparing for the festive season from BIPC North East's Retail Expert Karen Williamson. Using her extensive experience in the retail world, Karen will demonstrate how local retailers can plan, prepare, and execute peak sale periods with precision.
Attendees will also hear inspirational stories from North East based businesses who have transformed their business planning and sales utilising the power of market research & business intelligence as well as taking advantage of the latest grant and funding opportunities.
Local businesses will learn how they can grow and diversify by tapping into free business support from Sunderland City Council's Business Investment Team and Sunderland BID. Attendees will also learn about the free & accessible business information resources at their disposal such as BIPC North East's Experts in Residence network, access free market research and business information resources within their BIPC Local at Local History Library at Sunderland Elephant Tea Rooms along with weekly drop-in sessions available at both Houghton and Washington Library.
Local Sunderland retailers will be able to find out more about the City Centre Grant Scheme. Open to independent businesses in the city centre who are operating in the retail, hospitality, leisure and creative sectors and are looking to grow and create jobs. Up to 50% grant funding towards the cost of refurbishment / fit out of premises, capital equipment, shop front improvement.
Programme of activity :
8.30am: Registration
8.30am – 8.40am: Welcome & intros from the BIPC North East team
8.40am – 8.50am: Jodie Gillespie & Calum Watson from Sunderland City Council's Business Investment Team
8.50am – 9.00am: Sharon Appleby from Sunderland BID
9.00am- 9.20am: BIPC North East's Retail Expert Karen Williamson
9.20am -9.45am: Mintel demo session 'Hot gifting trends and consumer buying behaviours
9.45am– 10.00am: Local business story.
10.00am – 10.30am : Questions & networking
As the name suggests, a delicious breakfast will be provided by Bread&.
We wish to advise that our Business Breakfast will be taking place on the 1st floor at The Local History Library @ Sunderland ETR, which unfortunately is not suitable for those with mobility issues. Should you wish to discuss further, please email: Sarah.Turnbull@newcastle.gov.uk We apologise for any inconvenience caused.