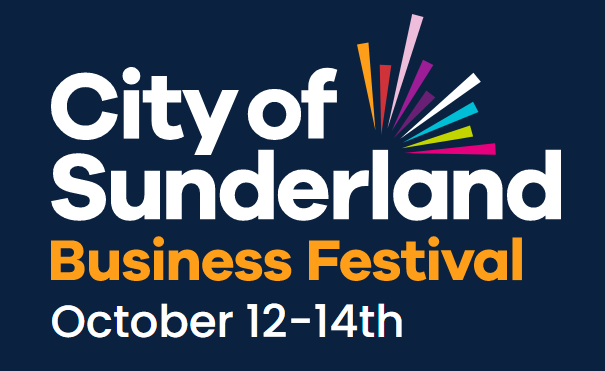 The 2022 Sunderland Business Festival will take place from 12-14th October and is set to be a key event in the region's business calendar, with more information being released in the coming months.
If you would like to receive more information about the 2022 festival, click here or check out the full programme below.
Wednesday 12th October

Protect you and your business from Cyber Crime
Local History Library @ Sunderland Elephant Tea Rooms
9am – 4pm

Come along to Local History Library and join the BIPC North East team to learn how to protect your business from Cyber Crime.
Decision & Disruptions Lego Game
Drop sessions: 9am – 4pm
Lego Game: 10am – 12pm

If you are a fan of games and Lego and prefer to learn more about Cyber Crime in a practical setting, then this is the activity for you. In the game, participants will play the role of 'Cyber Security Consultants' and are allocated a pot of money to spend on which ever cyber defences you choose. Decisions & Disruptions is a fun, friendly and light hearted way of learning about the results of decisions (whether these turn out to be benefits or consequences) you make around Cyber Security. Find out more.

Recruitment Fair
Stadium of Light
10am – 3pm

A free-to-attend recruitment fair aimed at all ages, connecting people with excellent career and training opportunities.
To exhibit, please email Mark Hodgson on mark@creocomms.co.uk
Tech Talent
Stadium of Light
10am – 3pm

Join digital and technology companies, training providers and further and higher education establishments for Tech Talent, the North East's premier tech careers, jobs and skills event. Learn more about the exciting opportunities a career in tech could offer, and connect with training providers who can help you realise your ambitions.
Developing the North East's film and media scene – with Fulwell73
The Sir Tom Cowie Campus at St Peter's, Sunderland, SR6 0DD
1pm – 3pm

Join Fulwell73's managing partner Leo Pearlman and UK CEO Johnny Moore as they discuss the company's future plans that will put Sunderland and the North East at the forefront of the UK's film and media industry. Learn how they made shows such as The Late Late Show With James Corden, Friends: The Reunion, Carpool Karaoke and Sunderland Til I Die. Find out more

On the sofa with Dame Irene Hays
Hays Travel HQ
3.30pm – 4.30pm

Dame Irene is one of the North East's top business leaders and is chair of Sunderland-based travel company Hays Travel, which she ran with her late husband John. The firm came to national prominence after acquiring Thomas Cook's retail estate. Irene will discuss her life and career with host Rob Lawson OBE. Find out more.
Thursday 13th October

Business support event
Hope Street Xchange
9am – 11am

Join the Educational Development Trust as they outline some of the support they can offer to businesses.
Heather Mills
Seventeen Nineteen
11am – 12pm

Heather Mills has encountered an unusual life of extraordinary circumstances. She has showed an inert ability to defy and conquer anything that falls in her path, establishing herself as a successful entrepreneur, charity campaigner, world record holder and Paralympic ski racer, among many other things.
Heather will be discussing her life and career in business in an event that is sure to be a must see. Find out more.

SAFC Talk – The Business of Football
Stadium of Light
7pm – 8.30pm

Hear from SAFC senior leadership team on what it takes to run a football club. This event will provide the opportunity to participate in an energetic and insightful discussion with Steve Davison and Kristjaan Speakman, following the promotion to the Championship. Tickets will cost £10 + booking fee, with the proceeds from the tickets going to the Foundation of Light. Find out more.
Music Tech Meetup
Independent
7pm – 10pm

Tech Startup Sunderland Presents: Music Tech Meetup. This unique event brings together the thriving music and technology scenes in Sunderland and adds a business twist.
During this event, you'll hear from Independent Sunderland, the fantastic venue for the evening, about its latest music tech course, alongside live music, drinks and networking. Find out more.

Friday 14th October
Behind the scenes at Nissan
Nissan Sunderland
10am – 11.45am

During your tour of Nissan's award winning Sunderland manufacturing plant you'll visit Trim and Chassis line 1. This is the main assembly plant, where the painted shells of every Nissan Qashqai or 100% electric Nissan Leaf are fitted out with all their components including interior trim, seats and wheels as well as their powertrain.
In the case of Leaf this will be a unique lithium-ion battery and electric powertrain or for Qashqai it could be Nissan's unique e-POWER system.
At the end of the line, the completed car enters Nissan's thorough quality assurance process before starting its journey to our customers within the UK or one of our 130 overseas markets. Find out more.

Entrepreneurial leaders
Fire Station Auditorium
11am – 12pm

A panel discussion with entrepreneurial business leaders at the Auditorium, speakers will include Alice Rowen from Rowen Homes, Kim Cattin from West Barn Co, Cassie Moyse from Bradley Hall, and host Natasha McDonough from MMC. Find out more.