Brussels, Belgium, 26 September 2017 – the European BIC Network publicly launches today its 'EU|BIC Impact Report 2017' highlighting the trends of the last three years (2014-2016). This report compiled from quantitative and qualitative data shows the added value EU|BICs create in the European economy and in their regional ecosystems. Supporting more than 82,000 clients, and facilitating the creation of more than 12,400 startups, the EU|BICs helped to generate over 75,000 jobs and leveraged more than 1.96 billion euros in funding for innovative small businesses, shifting from public funding to private.
As confirmed by the report launched today, EU|BICs demonstrate their role in making the European economies grow. The three-year time span shows that, after completing the EU|BIC support programmes, the survival rate of the companies is at 87%. The results also show that EU|BICs have fulfilled their inherent public mission by fostering entrepreneurship and innovation values at the local and regional level. Over the three years, the 150 quality-certified business and innovation centres hosted 11,622 promotional events to stimulate innovative entrepreneurship engaging a total number of 619,650 participants from Europe and overseas.
Javier Echarri, Chief Executive Officer at EBN, welcomes the launch of this report: "The professional support that EU|BICs are providing to the courageous entrepreneurs knocking at their doors demonstrate the EU|BIC model is highly effective at scaling-up Europe's innovative small businesses. The certification process and the strict quality criteria EU|BICs run through, position them as the trustable business support organisations in Europe."
With 150 certified business and innovation centres, during the reported period, providing business support to more than 33,000 startups, almost 47,000 SMEs and over 1,500 large companies, the EBN network positions itself as a key player within the European innovation ecosystem, one that has a clear understanding of how to scale up the potentialities of Europe's startups and SMEs. Based on this evidence, EBN continuously invites European and regional authorities to adopt the EU|BIC model in deploying more efficient business support schemes that deliver sustainable jobs and growth through innovation, a position that has been clearly backed by the European Court of Auditors in its 2014 report ("Special Report: Has the ERDF successfully supported the development of business incubators?").
Patrick Valverde, Chairman of EBN commented: "The EU|BICs have been working to enhance and promote entrepreneurs since the 1980's. We have collectively embraced a culture of permanent evolution to be better aligned to the market and more international, and consequently cater to the ever changing conditions that the entrepreneurs face".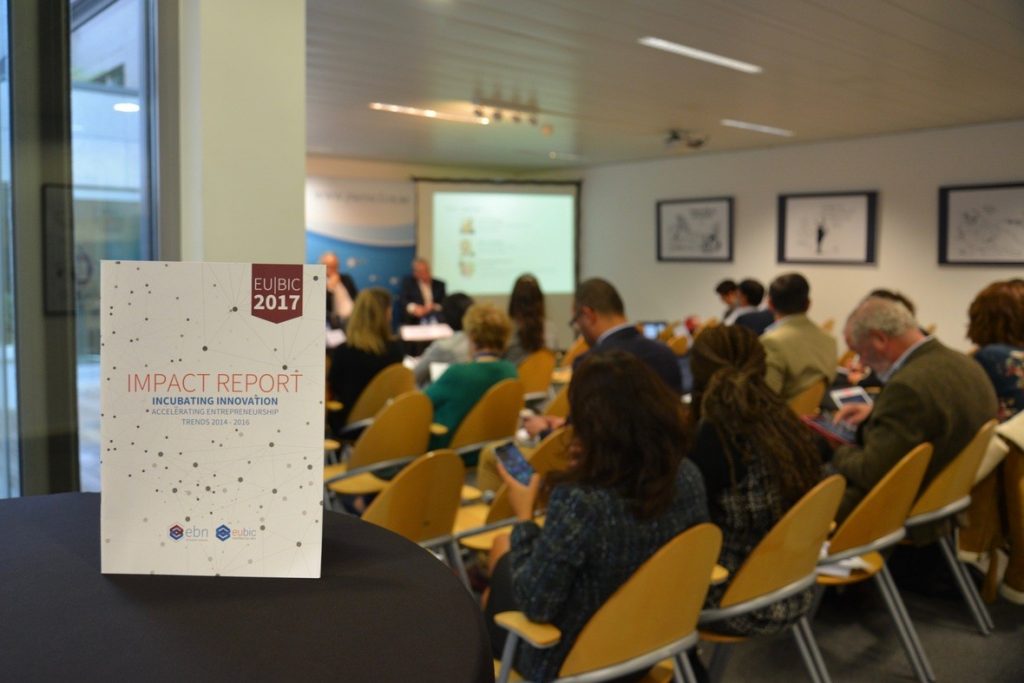 Background

EBN is an established not-for-profit international association of EU|BICs, incubators, innovation centres, clusters and other intermediaries who help innovative startups and SMEs develop their innovative businesses. Our members are mostly public-private partnerships with a local economic development remit. EBN's 250 members are spread over 40 countries in and out of Europe. Of those, around 150 are labelled quality-certified EU|BICs (Business and Innovation Centres). These EU|BICs are exclusively awarded a quality label by EBN that attests the excellence of their business support services. Every year, EBN conducts a performance survey to those 150 EU|BICs in order to track, identify and analyse the network's added value to the economy. To date, EBN members have created thousands of new businesses and tens of thousands of new skilled and sustainable jobs.

EU|BICs – incubators, accelerators and other business support organisations whose quality of support services delivered to entrepreneurs is uniquely certified by EBN in collaboration with the European Commission.