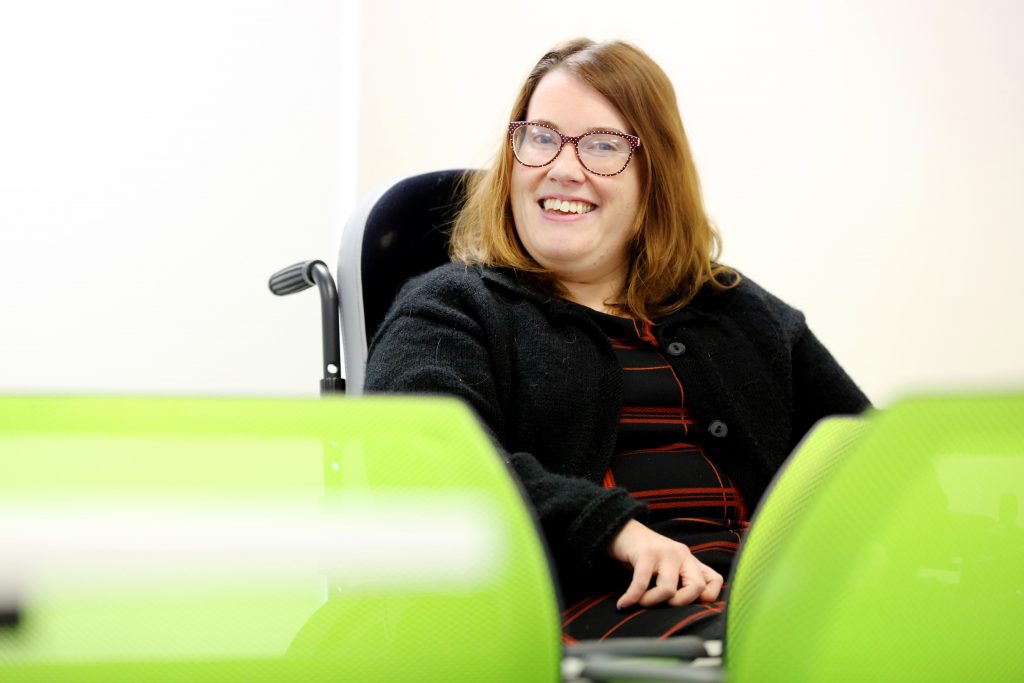 Tailored Leisure Company (TLC), the social enterprise behind Sit to be Fit are delighted to have secured funding to run a host of virtual fitness classes in 2021. The free accessible classes are set to start this month and participants can choose from Relaxing Iyengar Yoga, Strength-Building Arm Exercise to Feel-Good Boxercise.
The funding secured from the National Lottery Community Fund and the Hadrian Trust will support people aged 16+ who have a physical disability or long term condition to take part in the free online seated exercise taster courses. So, if you are looking to take control of your wellbeing, or have been feeling isolated during Covid 19 join the team at TLC and get fit and healthy from your own home. The seated exercises are tailored to support people with a variety of mobility abilities, deafness and blindness.
The supportive group exercises via zoom are a great way to meet new people, build strength, flexibility and confidence with the experienced instructors. 2020 saw TLC adapt their leisure offer substantially like many, with a switch to virtual fitness sessions. However, the continued growth of these funded fitness sessions has proven that the demand and appetite for accessible leisure facilities is there, with referrals now coming through from key partners including GP practices.
Tara Johnson, Founder of Tailored Leisure said:

"Fitness and lack of access to gyms for disabled people and in particular due to the unprecedented Covid 19 situation leaves people both mentally and physically isolated and is the key reason I set up the Sit to be Fit programme through TLC. I'm delighted to have secured additional funding to take this project into 2021, it has come at an optimum time and I am looking forward to supporting more people over the next few months.
Fitness and wellbeing are so important and can't be underestimated, the virtual classes we ran previously have reached people nationally, in particular in some tier 4 areas and the positive feedback from these classes has shown there is a strong need in the community for tailored and accessible fitness."

In addition, funding has also been secured from the Comic Relief Community Fund and Groundworks to support young people aged 12 – 16 with disabilities and special educational needs. Places are now available for young people to join an 8 week programme of virtual Boxercise classes which will start at the end of January 2021.

With the fitness drive on the agenda, TLC's Founder, Tara Johnson has also been thinking of her own fitness journey and has set herself a challenge to do a sponsored stand for her two children who have never seen her stand. With tailored training and nutrition, she is hoping people will pledge funds towards the sponsored stand and support the ongoing Access for All funding drive.

TLC are passionate about overcoming the barriers and social exclusion faced by disabled people, specifically in terms of access to leisure activities. They have recently launched a funding drive through their Access for All campaign to support the development of an accessible short break and leisure service for individuals with disabilities and their families.
TLC plan to create an innovative, one-of-a- kind short break holiday complex, the 'Butterfly of the North', which will be entirely accessible for people with disabilities. Designed by disabled people, for disabled people, the holiday complex will unlock barriers to short breaks and leisure services for families across the North East.
The enterprise is committed to developing accessible opportunities to get fit, have fun and relax with as little stress as possible. Founder, Tara Johnson from Whitburn was inspired to launch the social enterprise due to her own experiences living with cerebral palsy, as well as her professional experience in the health and social care sector.
Since the launch of the community funding drive on Just Giving the team have already started to see donations flutter in towards the £200,000 target for this element of the campaign, with £1.5 million needed cumulatively from all sources to make this project a reality. There are a range of options starting at just £2, where supporters can name a butterfly at the complex, through to purchasing a VIP butterfly for £1,000. To find out more and make a donation, supporters can visit: https://www.justgiving.com/crowdfunding/tailoredleisure
Tara added: "I am overwhelmed by the response we have had so far from families and in particular young people within the North East being brave enough to share their stories with us about how not being able to access holidays or activities makes them feel.
"We all have a loved one who perhaps suffers with a long-term condition and disability who now more than ever feels isolated and you don't often think about how accessible somewhere is until you're faced with it."
To find out more about Tailored Leisure and to sign up for the fitness courses available check out: www.tailoredleisure.co.uk