Hospitality agency celebrate local pride through football sponsorship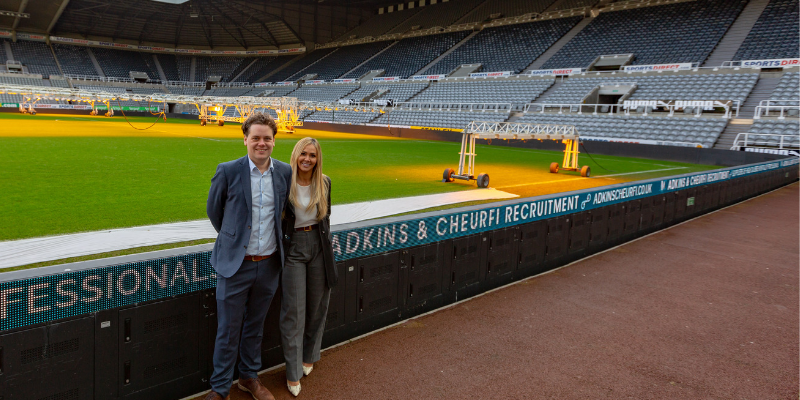 Adkins & Cheurfi has celebrated its commitment to the North East through its partnership with the Newcastle United Executive Club. The hospitality recruitment agency sees their company branding displayed on multiple platforms throughout St. James' Park, in front of more than 50,000 supporters, at every Newcastle United home game.
The business was formed in 2016 by Dean Adkins and Melika Cheurfi, both of whom had a background in hospitality before working in recruitment. Combining their experiences, the company's initial focus was to supply North East hotels and restaurants and events with highly trained chefs and front of house staff. The business has since expanded to include all positions within the hospitality industry from management to back office support. Other sectors Adkins & Cheurfi now supply include B&I, Education and Care.
Melika Cheurfi explained the importance that Adkins & Cheurfi placed on the local area when beginning the company: "We saw that there was a niche in the market, within the north east, for a specialist high-end agency, because there wasn't one that was focussing on the hotels and restaurants up here."
As a Newcastle United Executive Club partner, Adkins & Cheurfi see their company branding displayed to more than 50,000 supporters throughout every home game at St. James' Park. The business receives extensive brand exposure, being shown on crowd-facing LED boards, as well as StadiumTV and StatTV screens located within the concourses. In addition, the business is given a selection of hospitality tickets and is invited to exclusive partner events that have included Q&A Evenings with former Newcastle players.
Since joining the Executive Club, the business has further extended its association with Newcastle United, winning a contract to supply chefs in the club's kitchen. Being based in the North East, Adkins & Cheurfi views their involvement in football sponsorship as an effective way to connect with local communities. Melika Cheurfi outlined how the Newcastle United Executive has helped benefit the business:
"People see that we're associated with Newcastle United, who are such a big brand, We've had some great feedback from both clients and staff who have spotted us when they've been watching the match. We've been on Sky Sports. I think it's really good brand awareness.
"Newcastle is the heart of our business. It's where we've been supplying since we set up. The Executive Club helps solidify our reputation in the area."