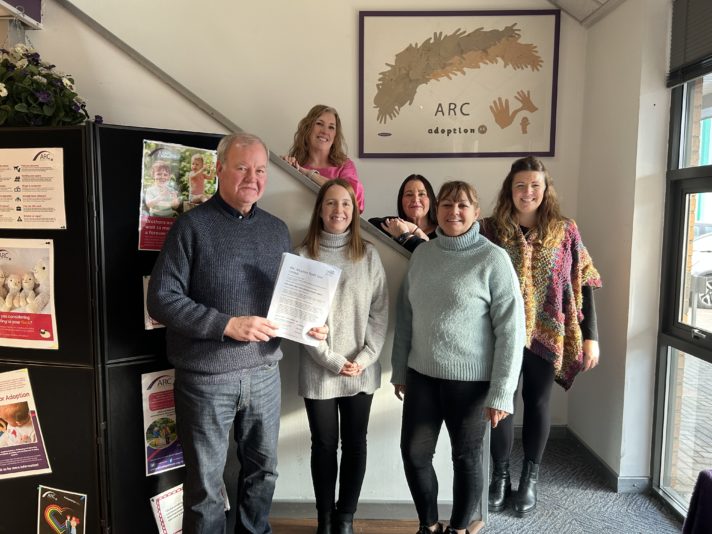 Wearside based adoption agency praised by Ofsted for delivering 'exceptional' services to families.
ARC Adoption North East (ARC Adoption) is celebrating an 'outstanding' start to the year after being highly praised in their latest Ofsted inspection.

It's the second, consecutive time that the voluntary adoption agency has been rated 'outstanding' in all categories covered by the inspection, with inspectors describing both the services provided to families and the progress that children make with their support, as 'exceptional,' much to the delight of the committed ARC Adoption team.

Inspectors who looked closely at the experiences and progress of children and adults that the agency works with, commented:

"The service that the agency provides to families is exceptional…it is forward thinking, innovative and dedicated to achieve the best outcomes for families. Adopters say that they value how much the agency invests in them, and lifelong links between the agency and families strengthen relationships and add to the success of stability for children and families."

An adopter who spoke to inspectors about their experiences with ARC Adoption echoed this by saying:

"Without the support of the agency, I don't know what we would have done. We have had support from other professionals, but the support by the agency is by far head and shoulders above the rest. They have saved us as a family. I cannot thank them enough."

The Ofsted report highlighted the wide range of bespoke support available to families from ARC Adoption including therapeutic services with the input of an in-house clinical psychologist, support for schools and nurseries that adopted children attend, a birth parent support provision, and a strong focus on life story work along with development of a unique digital life story platform, ARCBOX.

On hearing the fantastic result, Director, Terry Fitzpatrick OBE, who founded ARC Adoption in 2014, alongside Assistant Director, Lorraine Jefferson, said:

"Providing a personalised service and ongoing support to families is at the heart of what we do at ARC Adoption, and often reasons that adopters are drawn to our agency, so to receive this endorsement from Ofsted is tremendous, and it really does mean so much to the whole team. It is an absolute privilege to manage an agency that can achieve such great things because of the dedication of the people involved."

Terry went on to say:

"There are many children today in need of a loving and nurturing home and we hope that by being officially recognised as 'outstanding' it will encourage people considering adoption to come forward, with the assurance of the wide range of support available to help prepare them to become the best possible parents to children who have had a difficult start in life. We're calling for people to get in touch with our team, where they will receive a warm and inclusive welcome and the very best support, for an important ongoing journey that will enrich their lives in so many ways."

ARC Adoption was inspected between 12th and 16th December 2022, with the report released in February 2023.

You can read a full copy of the Ofsted report here.