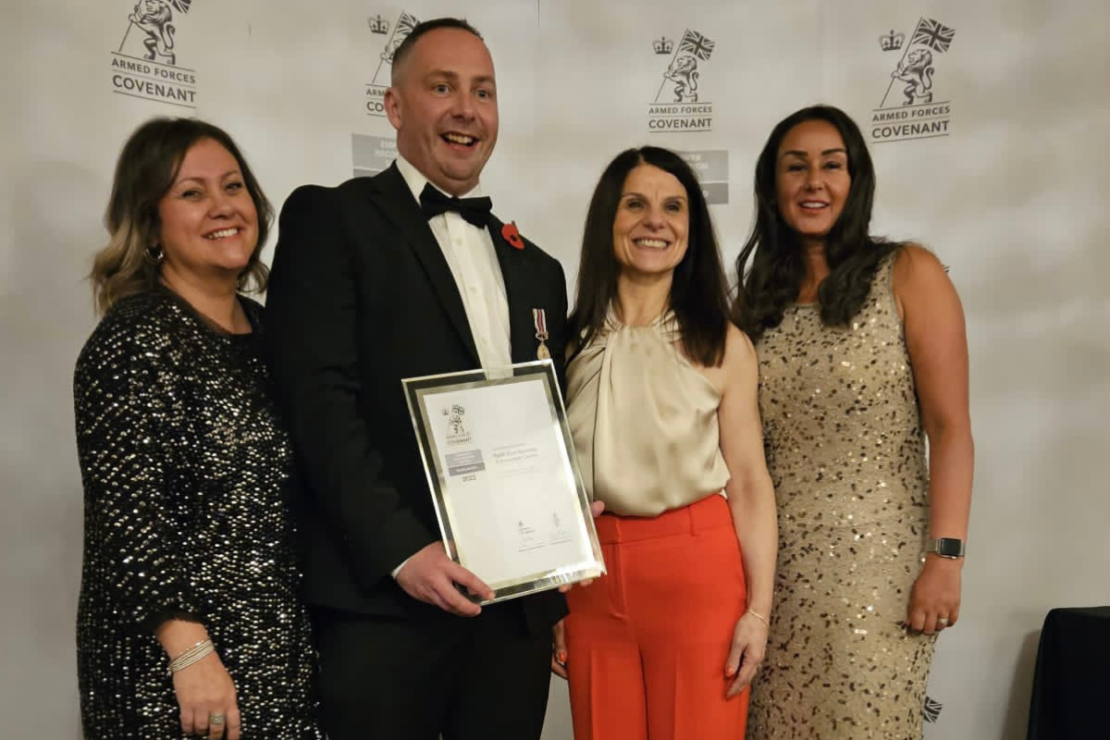 The North East BIC is passionate about supporting the Armed Forces community and so, we were honoured to attend a special dinner at Ramside Hall recently in recognition of our commitment and ongoing pledge to champion veterans and reservists as well as the wider Armed Forces community.
The team felt privileged as we were presented with a Silver Award at the covenant event celebrating the Ministry of Defence's Employer Recognition Scheme.
The scheme recognises employer organisations that pledge, demonstrate or advocate support to defence and the Armed Forces community, and align their values with the Armed Forces Covenant. This covenant represents a formal commitment from the nation to acknowledge the sacrifices made by service personnel and ensure they receive the respect, support, and fair treatment they deserve.
The room was filled with inspirational organisations who are also doing amazing things to support veterans including BIC clients such as John and Kelly Quinn who are currently enrolled on the BIC's Veterans RV programme. Furthermore, the evening also gave us an opportunity to spend time with serving Armed Forces personnel who have motivated us to do even more for the services community and apply for the Gold Award.
Announcing the award, Brigadier Ben Banerjee, a Consultant Vascular Surgeon who in 2020 was appointed as Queen Elizabeth's Honorary Surgeon, said: "Currently home to 328 businesses across Sunderland, Darlington and Washington, the North East BIC is a regional leader in offering bespoke and free business advice. 
"Since being notified of their ERS Silver Award the organisation has started delivery of a 12-week programme specifically aimed at creating new veteran business entrepreneurs. Their Veterans RV Pilot has enrolled 17 participants and was created without any external funding, we await news of 17 new veteran businesses coming to life therefore next month. 
"In addition to Veterans RV, the organisation works with six veteran charities, offering development, organisational and specialist advice, and more widely they assist up to 50 armed forces individuals per year with ongoing support."
Special thanks to: David Eccles, Darren Rhodes and Lindsay Thomas for the invitation and hospitality and to the Armed Forces Covenant for their guidance to date. We look forward to continuing to foster our collaborative efforts to support Armed Forces Communities as we move forward.
For more information on the BIC's Veterans RV programme, click here or email Anthony.Mcdermott@ne-bic.co.uk