Sunderland-based interior design and architectural company Space ID has expanded at the North East Business and Innovation Centre (BIC).
The award winning company, founded in 2008 to provide design services across the UK for the hotel, bar and restaurant sectors, has gone from strength to strength and has recently taken additional space within the BIC to accommodate their recent growth.
The three Directors of the company, Mike Simmons, Marc Hardy and Phill Young have pushed the company forward since the initial set up by bringing together their individual skill sets to provide a comprehensive design service to their clients. The team covers all areas of design from initial concepts, 3D visuals, site surveys and local authority applications through to full design packages and on site design management to realise their client's projects and aspirations.
Director Phill Young explains:
"The market has greatly improved within the construction sector and we have taken this upturn as an opportunity to expand."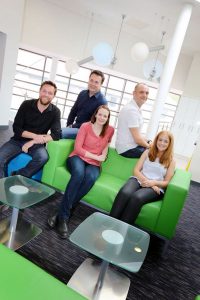 "We have a range of new projects in various stages of design and construction at present situated around the UK and are taking briefings on future works.
"Having recently recruited two interior designers and with plans for a possible further two members of staff in the future, the extra space was not only needed to accommodate the expanding team but will also help us to maintain our links with Local Universities.
"We teamed up with the University student placement scheme which allows the next generation of design talent to gain hands on experience within a design company. In fact, one of our newest team members originally came to us on a placement from Teesside University."
Phill continues:
"The BIC is the ideal environment for businesses just starting out and needing incubation space, but it also has room for growth. With flexible lease terms and on-site business support, companies like ourselves can plan their expansion wisely.
"The Jupiter Centre suits our business needs, and the location is perfect not just for ourselves but for clients travelling from all over the UK. Being based just off the A19 and slightly outside of the city centre is very convenient and there is more than enough car parking space. We can also see the benefits and opportunities that the new bridge will bring once complete.
"Moving offices couldn't have been easier, the BIC staff were brilliant and the IT and telephone systems were set up immediately, so we were never without access."
Donna Surtees, centre manager at the BIC commented:
"Here at the BIC we pride ourselves on nurturing business success whatever the sector or size here in the North East.
"We are delighted to provide a dynamic and supportive environment to accommodate the growth of Space ID. I wish them the very best in their new office and with their plans for further expansion."
For more information on Space ID check out their website, look them up on Facebook or alternatively, contact them directly on 0191 516 6832.
For more information on Space at the BIC click here