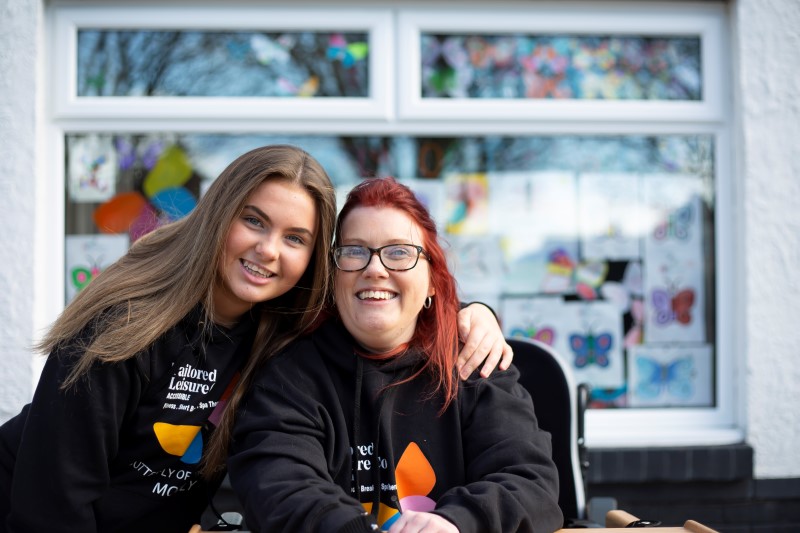 Everyone deserves a little TLC and what's more quintessentially British than a getaway to the coast? Unfortunately, accessible accommodation remains a major issue for individuals and families with complex or multiple accessibility needs. This has prompted Tailored Leisure Company (TLC) to launch their first accessible short break service.
In collaboration with one of Britain's leading family holiday companies Haven, TLC have now launched their first accessible short break service for families to enjoy a relaxing break in a fully accessible caravan at the site at Berwick Holiday Park, nestled on Northumberland's breathtaking coastline.
The team at TLC are on a mission to overcome the barriers and social exclusion faced by disabled people, specifically in terms of access to leisure activities. Alongside their high-profile accessible fitness programmes, the recent Best of South Tyneside Award winners launched the Access for All campaign last year, a funding drive to support the development of an accessible short break and leisure service for individuals with disabilities and their families.
Tara Johnson, Director of Tailored Leisure Company who set up the company due to her own experiences of living with cerebral palsy said:
"We are delighted to collaborate with Haven to bring this fully accessible caravan on site at Berwick Holiday Park. Many 'accessible' holiday homes only cater for a narrow range of physical disabilities, and this means that people with complex or multiple needs can't enjoy a proper break with their families.
We have worked closely with Haven in the specification of the caravan to eliminate the many barriers to holidays that include a lack of specialist equipment, lack of support for carers, only partially accessible facilities and being excluded from activities (like pools)."
Mark aged 19, a Tailored Leisure Company client said:
"Trying to find fully accessible places to stay is mine and my family's worst nightmare because you sometimes don't know what you're going to find when you get there. Last time we went on holiday, the bathroom was too small, and you couldn't access all areas of the cottage which leaves me feeling left out or my family really stressed. I sometimes get there, and I am counting the days until we leave when all I want to do is have fun with the rest of my family."
As one of Britain's leading family holiday companies Haven own and operate 41 award-winning family holiday parks throughout England, Scotland and Wales. Offering a full programme of activities and entertainment alongside being located next to some of Britain's most beautiful beaches and brightest resorts, Haven is a great base for exploring the local area.
Tara Johnson who now has a trio of awards under her wing after picking up Entrepreneur of the Year this month at the Best of South Tyneside Awards said:
"Our aim is to offer the most accessible escape ever, providing customers with a luxury worry-free break, where families can relax and have fun. The site at Berwick is a perfect coastal get away and is located near some of the region's most breathtaking scenery and experiences. This is an amazing start to our exciting plans for accessible short breaks across the region, we really can't wait for families to share their experiences with us."
Led by regional research TLC have attracted the attention of numerous national funders to run a host of accessible fitness projects across the North East region. The community based and virtual fitness programmes run alongside a continued funding drive to raise £1.5 million for the development of an innovative, one-of-a- kind accessible short break holiday and leisure complex, the 'Butterfly of the North', which saw the inspirational founder (Tara Johnson) stand for the first time in over 20 years to raise vital funds towards the endeavour last year.
A winner of the Sunderland Echo Portfolio Business Awards 2021 for Corporate Social Responsibility and a recent PNE Social Impact Award winner, TLC have been a key driving force in developing accessible projects since its inception. The team are committed to developing accessible opportunities to get fit, have fun and relax with as little stress as possible and are passionate about overcoming the barriers and social exclusion faced by disabled people.
To find out more and to book visit https://tailoredleisure.co.uk