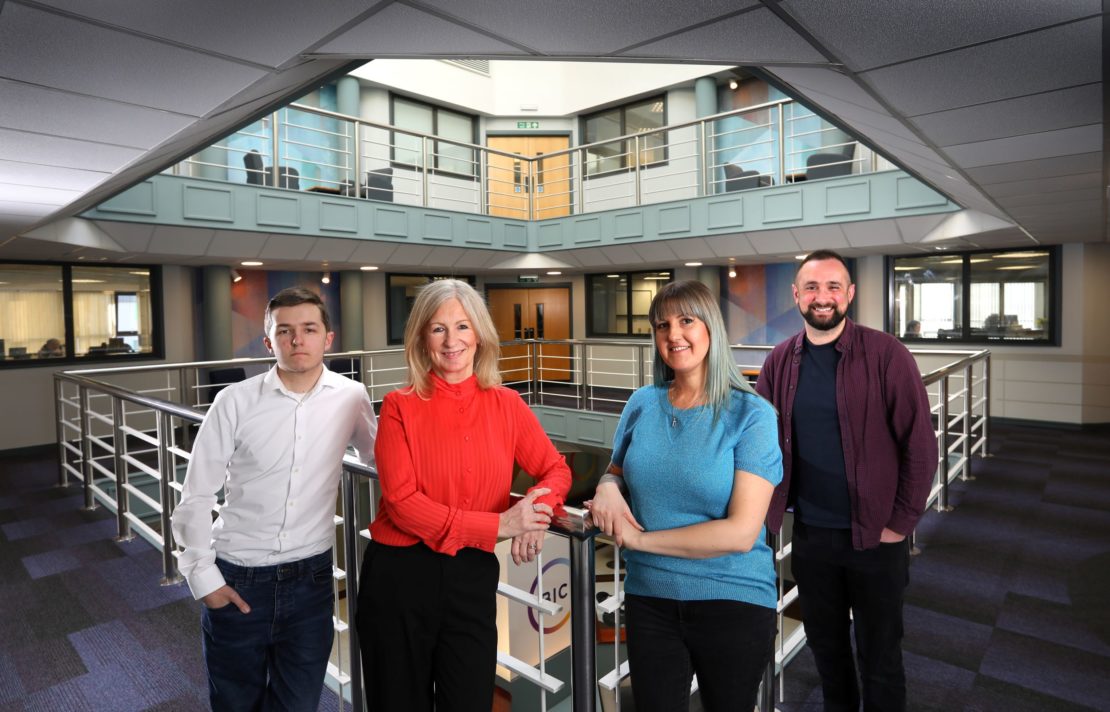 An award-winning North East web agency is searching for the next phase of its growth story with the help of a five-figure investment from the North East Small Loan Fund Supported by The European Regional Development Fund.
Blueocto specialises in providing a range of bespoke web services, including website design, responsive web development, web audits and SEO, and has an increasing focus on delivering Shopify and other ecommerce solutions, primarily for SMEs across the North East.
Based at the North East BIC, Blueocto was founded in 2015 by experienced developer Caroline Hagan, who worked as a sole practitioner for five years before deciding to grow her business at the beginning of the pandemic on the back of increased client demand.
Having since built a five-strong team over the last three years, Blueocto is now looking to use the £30,000 Small Loan Fund investment, which was obtained through regional fund management firm NEL Fund Managers, to help create new jobs as it builds its client base within and outside the region.
At least two new roles are expected to be created in the coming months as Blueocto enhances its business development and marketing activity and takes on more and bigger projects.
The company was ranked as the leading agency in the North East and 19th overall in the Top 100 UK Shopify Developers list for 2022, an industry table based on client reviews, the quality and quantity of services offered and the range of projects delivered.
Caroline Hagan says: "Our success is based around developing long-term client relationships and providing bespoke solutions which address the different challenges that each business is facing.
"The past three years have seen Blueocto beginning to grow in the way that I believed it could and we're now looking to take the business to the next level.
"We have an excellent team in place, but we know that we need more capacity if we're going to go after more contracts and fully realise the business's potential, so we're looking to bring in more high-calibre staff through the coming year.
"The process of securing this investment was straightforward and clear, with the NEL team being very supporting in helping us to complete it successfully."
Carolyn McGregor, business development executive. at NEL Fund Managers,
adds: "The progress that Blueocto has made over the last three years demonstrates the robustness of the company's business model and they now have the resources required to take the next steps on their growth journey."
Part of the £120m North East Fund and aimed predominantly at smaller SMEs, the £9m North East Small Loan Fund typically offers loans of between £10,000 and £100,000 to businesses in Tyne & Wear, Durham and Northumberland.
It is designed to assist with the creation of over 1,200 new regional jobs in more than 320 SMEs over the life of the fund.
The overarching £120m North East Fund will provide financial support for more than 600 businesses, creating around 2,500 jobs and delivering a legacy of up to £80m for further investment into the region.
NEL Fund Managers is also responsible for managing the £18m North East Growth Capital Fund, which offers unsecured investments of up to
£500,000 to established businesses looking to realise their growth potential.
For more information about NEL's investment criteria, visit www.nel.co.uk or contact the investment team on 0345 369 7007.