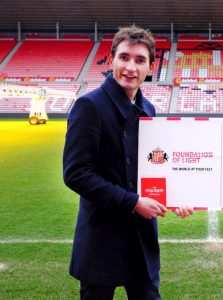 Sunderland businesses are being encouraged to celebrate local pride on this year's National Mackem Day.
The event, on August 12, coincides with the launch of the second edition of the best-selling Mackem Dictionary.
And now Ken Dunbar, Chief Executive at the city's Business Improvement District is encouraging local companies to get behind the day.
"Sunderland is a vibrant city that is constantly progressing and National Mackem Day is the perfect opportunity for businesses to shout about what they do and what they love about Sunderland.
"We're keen on businesses to get involved in this annual day of Wearside pride, and hope as many as possible will put offers or themes in place to celebrate the day – whether that means adding panackelty to the menu or decorating their shop window."
The day honouring all things Mackem will end with a special launch night for the second edition of the Mackem Dictionary at The Royalty Theatre, Sunderland – where there will be special guest performances from top local musicians Barry Hyde of The Futureheads and The Lake Poets.
The evening, which begins at 7.30pm, will also have author of the Mackem Dictionary, Paul Swinney, explaining his inspiration and the true stories behind the book, with guests also receiving a copy.
The second edition, which contains a further 39 words from suggestions from readers, will again promote a good cause on Wearside.
The book, which has already raised almost £9000 for the Sunderland AFC charity, The Foundation of Light, will now be supporting housing association Gentoo, by donating proceeds to help continue the vital educational projects that Gentoo carries out across the city.
Paul Swinney, said: "National Mackem Day is a chance for Mackems around the world to celebrate their heritage.
"While we've had our requests to make it a Wearside-wide bank holiday knocked back by the powers that be, we'll be having an evening of celebration at the Royalty Theatre, which promises to be a great night."
Tickets for the evening are £10 and can be purchased at http://www.alsshop.co.uk/