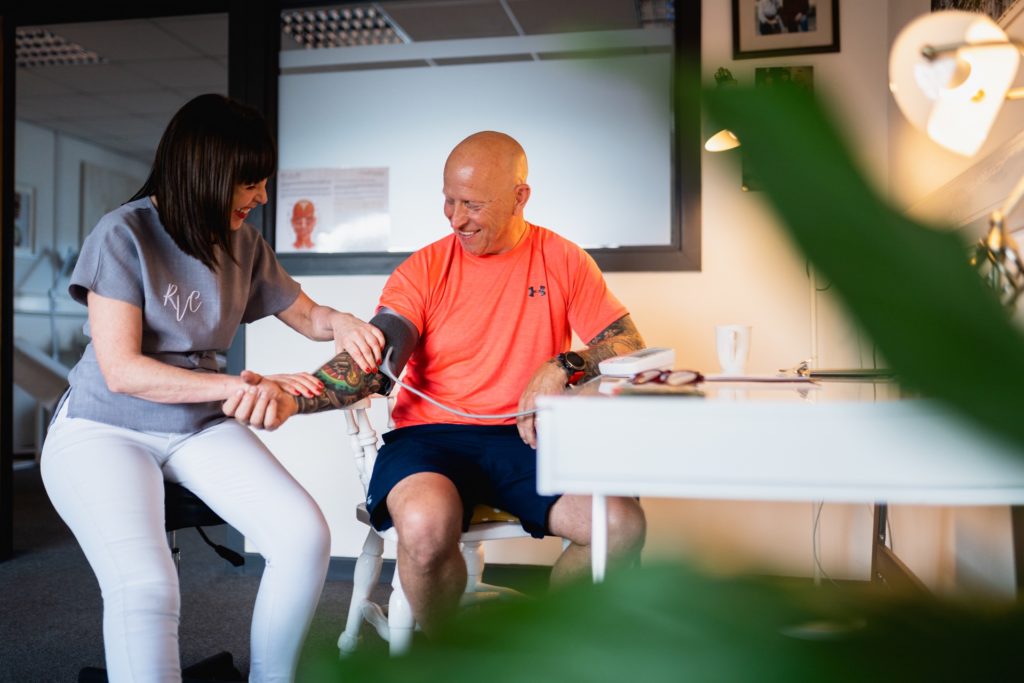 One of the first North East men's health clinics to open its doors
Research shows men die 3.7 years earlier than their female counterparts
Launch coincides with Men's Health Week, aimed at making men more aware of the health problems they may have or could develop
A HEALTH clinic dedicated to helping men maintain their physical and mental health has opened its doors in the North East.
Male Ageing Pro has been created by Riverview Clinic founder Beverley Ashton to provide a 'confidential and comfortable' setting for men to undergo sport health checks, assessments for male aesthetics and comprehensive medical health checks. 
The launch, on Monday [14 June], coincided with Men's Health Week, which this year is dedicated to raising awareness of the health issues that affect men disproportionately and making men more aware of the health problems they may have or could develop and gain the courage to do something about it.
Research suggests one in five UK men will die before the age of 65, with men dying 3.7 years before their female counterparts, and Beverley believes initiatives such as those led by Male Ageing Pro will be key to reversing this trend and levelling the playing field.
Speaking at the launch, Beverley said: "Having studied and worked in the field for the best part of 20 years, I've witnessed first-hand the huge gender imbalance that exists within the provision of health services, with men traditionally being a lot more reluctant to undergo routine health checks or even seek support when they first spot potential symptoms of illnesses."
Although based in Sunderland, the clinic operates a national service, with Beverley already receiving bookings from patients in London.
She added: "Male Ageing Pro is a direct result of this research and is the first clinic of its kind in the region; however, our aim is to offer this service throughout the UK.
"The North East is a hotbed of innovation within healthcare and life sciences and by developing partnerships with companies such as Rokshaw Laboratories, Analutos, and export award-winning Hydrolactic Systems and Medichecks, we're able to deliver a real game changing service and tap into some of the latest industry advancements.
"Add to that the fact that we offer a fully confidential service and that we're part of the Care Quality Commission framework, which ensures regulatory standards are met, we've seen a real uptake in our services, however we know we have a lot of work to do to inspire more men to take their health seriously and are looking forward to rising to the challenge."
Beverley was joined for the launch by 52-year-old John McFarlane, founder of CrossFit Sunderland SR1 who underwent a vitamin infusion containing amino acids, and key vitamins. Following his assessment and treatment, John spoke passionately about the importance of men taking their physical and mental health seriously.
John said: "I'm delighted have been asked to join Beverley for the launch of the Male Ageing Pro clinic and to help fly the flag for men's health.
"Statistics show men are far less likely than women to flag any health issues and symptoms of illnesses, and initiatives like this are key to encouraging more men to take their physical and mental health seriously."
He added: "This was the third time I've had a test and treatment from Beverley and I always feel more energetic afterwards. I've been so impressed with the physical and mental benefits of her work, both in a professional and personal capacity, and I'm proud to be supporting her on her journey."
Male Ageing Pro offers three distinct services:
Male Sport: Tests include measuring your vitamins and lactic acid levels – in addition to vitamin infusions which can be titrated to an individual's specific need.
Male Aesthetics: Male botox (line softening) and the latest research on preventing an increase in the deadly melanoma to men who are most at risk in the over 50s, to Platelet Rich Plasma, in which Beverley has conducted case studies to show benefits in men to maintain and strengthen hair follicles.
Male Medical: An annual comprehensive health check providing a bespoke report, which also includes male hormone levels, and if clinically indicated, a prescription for each individual's specific needs. For more information on Male Ageing Pro and the services it offers, visit: http://maleageingpro.co.uk/