Motorists using Pallion Junction in Sunderland will get a boost next week when European Way partially re-opens on 15 July after being closed for 12 weeks due to essential New Wear Crossing works.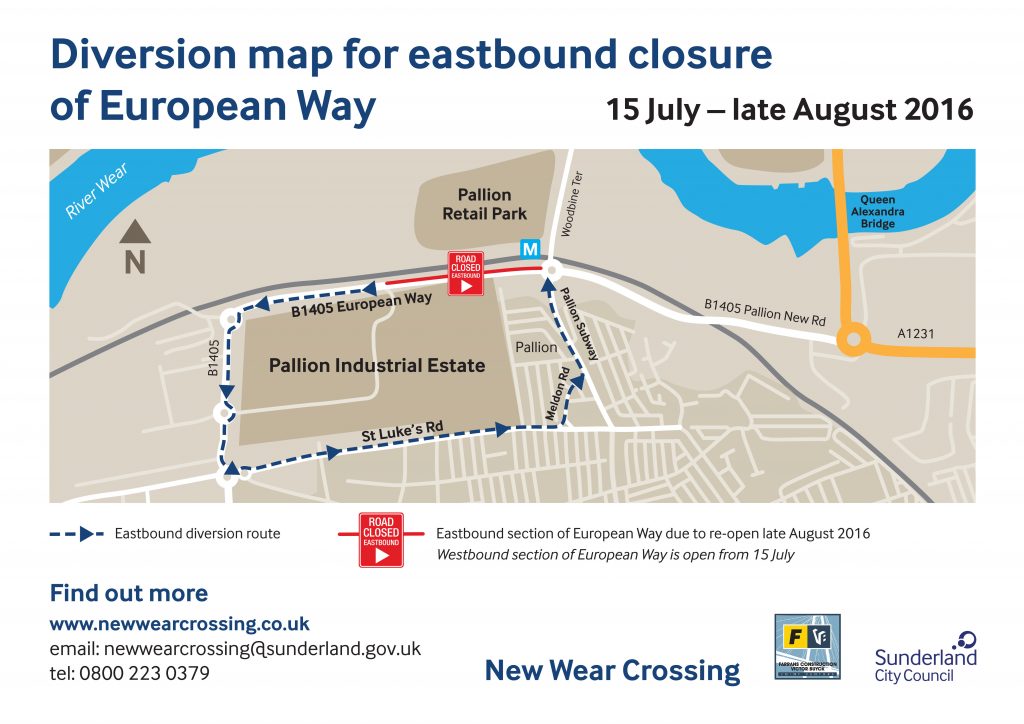 The westbound section of European Way will open from 15 July but eastbound will remain closed until late August to enable the construction team behind Sunderland's new bridge to complete the drainage work and service diversions in the area.
The 4-way temporary traffic lights at Pallion Junction will remain in operation throughout this time, and the existing signed diversion for eastbound traffic, which is via St Luke's Road, will continue.
As the team is making good progress in the area, from late August the whole of Pallion Junction and European Way will be fully open to traffic, with the temporary traffic lights removed for around a month to six weeks.
However, from the end of September traffic management will be re-installed and one lane of Pallion Subway will be closed, with a diversion in place, until around the end of 2016.
The improvement works in Pallion are running ahead of schedule so it is anticipated that all major work in the area will be complete by the end of the year, with minor work carrying on until the spring of 2017.
Local shops and businesses, including those at Pallion Retail Park, Pallion High Street, Pallion Quay and Pallion Industrial Estate, will remain open as normal at all times. Local retailers, landowners and businesses are being kept informed about the plans as work develops.
Manually-controlled traffic lights will remain in operation at weekends and bank holidays when local shops are at their busiest.
The end result of the work will be a four-way junction with traffic lights on the site of the current roundabout linking Woodbine Terrace, Pallion New Road, European Way and Pallion Subway, which will allow traffic to connect to the new bridge when it opens in the spring of 2018.
The new bridge will cross the River Wear between Wessington Way in Castletown and European Way in Pallion.
It is the first bridge to be built over the Wear in Sunderland for more than 40 years and is part of the wider strategic transport plan to link the Port of Sunderland and city centre with the A19.
Councillor Paul Watson, Leader of Sunderland City Council, said: "It's good to see the project team is starting to re-open some roads as work moves forward and I know that local people will be pleased to hear this news. This project will make the Pallion area, along with the city centre and the Port of Sunderland, much more accessible."
Stephen McCaffrey, Project Director for FVB joint venture, which has been appointed by Sunderland City Council to deliver the project, said: "We're making good progress on this section of the scheme, and we're ahead of schedule to complete the major works before Christmas.
"As well as this, we've been able to organise our activity so that we can completely open the junction for around a month to six weeks later this summer, which is good news for drivers. I'd like to thank everyone who uses Pallion Junction for their patience while we carry out this essential work."
To sign up to receive regular updates on the New Wear Crossing, email newwearcrossing@sunderland.gov.uk asking to be put on the distribution list.
For more information, go to http://www.newwearcrossing.co.uk, or call 0800 223 0379.