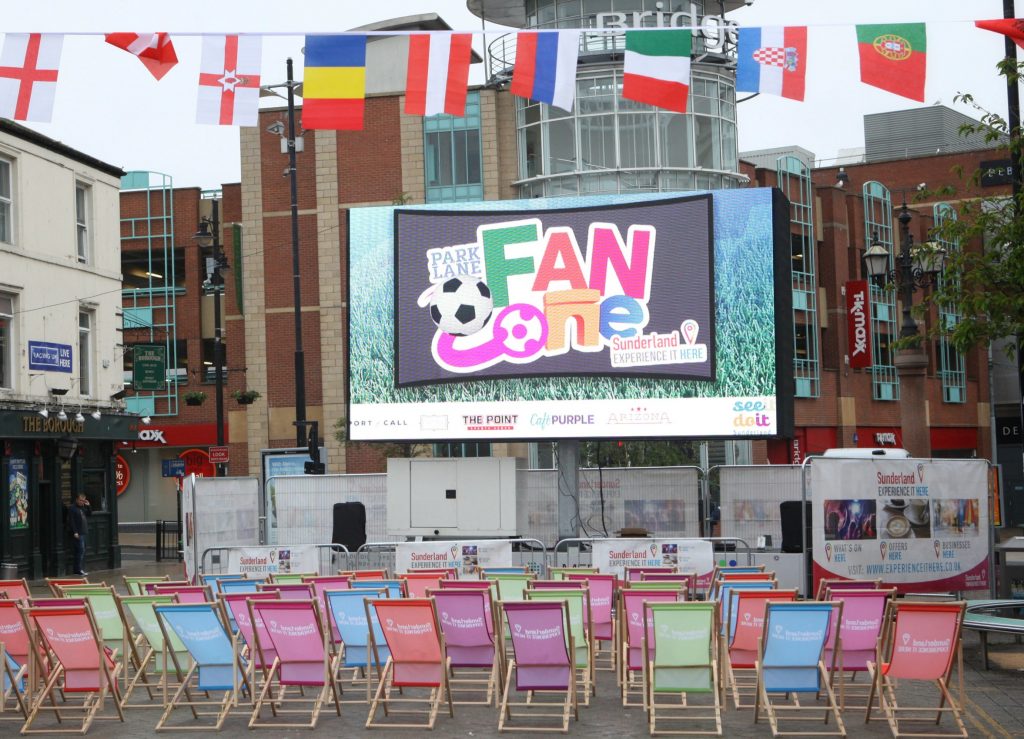 England may well be out of the Euros but the Sunderland 'Experience It Here' Fanzone is still making a noise and showing all the summer sporting action until July 10.
The final weekend at the Park Lane Fanzone, will see the semi-finals and final of the Euros being played on the giant 20 metre-high screen along with highlights of other major sporting events, including Wimbledon and Formula 1.
The Summer Fanzone was launched on June 10 by Sunderland BID, in conjunction with the bars in the Park Lane area to create a vibrant atmosphere in the city centre – and to celebrate its successful stint in Sunderland, the Fanzone will end with a Super Sunday family fun day on July 10.
The fun day will run from 11am to 3pm and will include a meet and greet and performance from Make My Day Events' superheroes and heroines between 11am and 12.15pm, a face painter and 'Beat The Keeper' game from 11am to 3pm and a variety of special offers from the surrounding bars and restaurants.
Purple Bar, Gatsby and Port of Call will be offering one free kids meal and a soft drink when two adults purchase two main meals.*
The Sunday will also see two of the biggest sporting finals, Wimbledon and the Euros, screened live, starting from 2pm and finishing at 11pm.
"Despite the disappointing news that England were out of the Euros, the Fanzone has been a great success and has a created a vibrant buzz across the city," said Ken Dunbar, Chief Executive of Sunderland BID.
"We've had excellent feedback from the Park Lane businesses throughout, who cannot speak highly enough on the impact the Fanzone has had on their business."
Andrew Golding, Managing Director of Nightlife North East, which owns Café Purple and The Point in Park Lane, said the Fanzone has given bars in the city centre a great opportunity to work together.
"We are delighted at the sense of community the Fanzone has brought to the Park Lane area and can't wait to celebrate the final weekend with plenty of food and drink offers for everyone."
For further information on the Park Lane Fanzone, click here