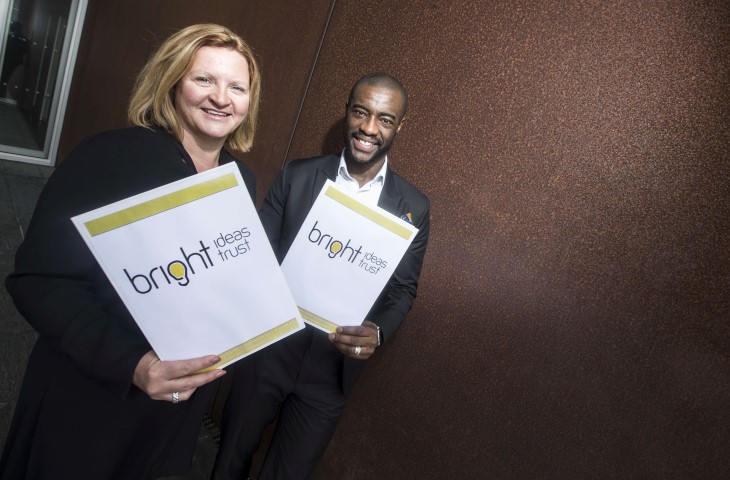 Talented young entrepreneurs in the North East are being offered a brighter future thanks to the launch of a new charitable programme from Bright Ideas Trust funded by Sage Foundation.
Founded by Tim Campbell MBE, the first winner of BBC's The Apprentice, Bright Ideas Trust has unveiled its new, entrepreneurial programme Prosperitas in the region after receiving a £25,000 grant from Sage Foundation.
The innovative new programme, which provides bespoke support to disadvantaged young people with the ambition to start their own business, will engage 30 young people aged between 16 and 30 years with the aim of creating 10 new businesses by June 2018.
Catherine Marchant, CEO of Bright Ideas Trust, said: "The North East is an ideal location for young people to start a business and thanks to the funding provided by Sage Foundation we are excited to be launching Bright Ideas Trust in the region.
"Over the next few months, we will be working to identify ambitious young people from across the region who are interested in joining Prosperitas. We will also be reaching out to experienced entrepreneurs as we look to develop a network of mentors who will help to guide the programme's young people through the start-up stage of business."
Launched in 2007 as a registered charity, Bright Ideas Trust has the backing of proven entrepreneurs and business leaders who are passionate about helping young people to achieve success.
Tim Campbell MBE, Bright Ideas Trust's founder and trustee, added: "Bright Ideas Trust was created with the belief that every young person, no matter their background, should have the opportunity to participate in business and that socially excluded individuals should be supported to turn their Bright Idea into a commercially viable business.
"Since its launch, Bright Ideas Trust has already supported over 1,000 young people with business planning skills and have helped 250 entrepreneurs set up in business, assisting them to secure over £2m in start-up finance and creating over 300 additional jobs.
"Over the next five years we have ambitious plans to expand our activities across the UK, and as we move into our 10th year, what better way to mark this than by unveiling our first programme outside of London here in the North East."
Young would-be entrepreneurs will be matched through Prosperitas with business ideas that are backed by robust research and data from local universities. Each young person will also be partnered with a carefully chosen mentor who will work with them for the first 12 months of the business operating. While they will also have access to up-to-date market intelligence and professional support with market research.
In addition to providing funding to help launch Prosperitas in the North East, staff from Sage will also act as mentors and volunteers to support the programme.
Leigh Thompson, Sage Foundation Manager, said: "We are delighted to support the expansion of Bright Ideas Trust. Sage Foundation is committed to taking action to build sustainable social, economic and entrepreneurial opportunities in our local communities and believe it's simply the right way to do business. It's thanks to our brilliant charity partners – like Bright Ideas Trust – who work tirelessly to build opportunities within our communities that more young people will unlock a brighter future.
"With a strong local presence and home in the North East our support for Bright Ideas Trust's first expansion to the region is very important to Sage. We are confident that our work with them will help us to empower more young entrepreneurs in the North East and help them to build a positive future for our region as the next generation of business leaders."
Any young person aged 16 to 30 years from a disadvantaged background or currently not in employment, education or training who is interested in joining Bright Ideas Trust's Prosperitas programme should contact Bev Brown at bev@brightideastrust.com.
Experienced entrepreneurs who would like to become a Bright Ideas Trust mentor should contact Catherine Marchant at catherine@brightideastrust.com.