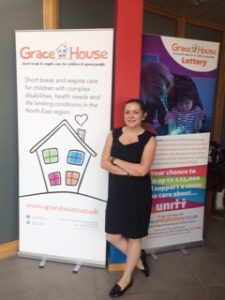 North East based charity has appointed Rachael Jenkins as office and facilities manager to support the charities ongoing delivery providing respite care for children across the region.
Grace House, based in Southwick, is for children and young people all over the North East with complex disabilities and have expanded their team with the appointment of Rachael.
Having worked at Age UK for three years Rachael knew of Grace House so when the opportunity came up she jumped at the chance to work for the charity. Victoria Brown, CEO, commented:
"It is fabulous to welcome Rachael to our team. The facility is relied on by so many in the region and Rachael's work is vital to ensure maintenance of the building and grounds. As well as managing the team of volunteers who dedicate their time, energy, and enthusiasm to support us.
"There have been many changes this year with Grace House with more plans to expand before the year is out."
Earlier this month the facilities based in Southwick saw a new sensory play park built over two days with four wheelchair accessible shelters which stimulate visual and auditory senses.
Rachael added:
"Everyone has been so welcoming, after my time spent working with the elderly I am looking forward to working with a new age group and am sure my skills will develop as my career progresses."