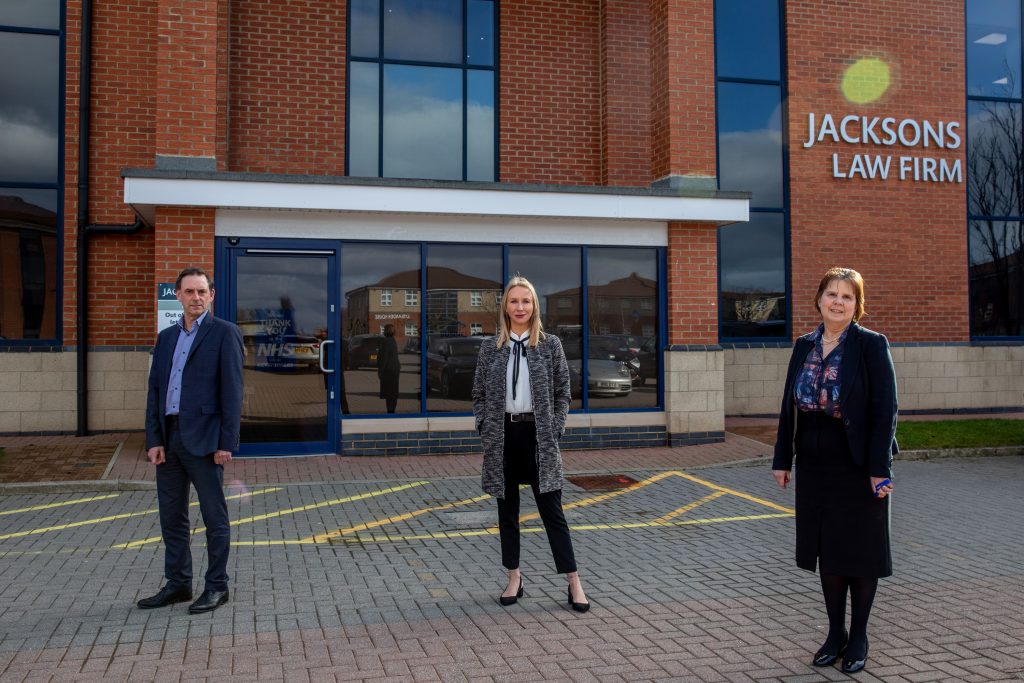 Award winning law firm Jacksons continues with its plans for growth as it announces a range of new job opportunities in its Stockton office.
The firm has seen a surge in new work across its business and personal legal services departments over the last few months, and is now looking to further expand to meet client demands.
Current roles available in the firm's Stockton office include a paralegal/solicitor in the Residential Conveyancing (New Build) team, a secretary in the Residential Conveyancing (Bespoke) team and a Litigation Solicitor / FCILEx. The firm's Newcastle office has just taken on two apprentices to support the solicitors working in its Residential Conveyancing teams.
Recruitment has been a priority during the pandemic and has seen the firm appoint three solicitors to further strengthen its Newcastle office in the employment, private client and matrimonial departments. Two legal experts were appointed in the firm's New Build team in Stockton, as the department continues to receive instructions from a wide range of housebuilders in the region. Five apprentices were offered permanent roles following completion of their apprenticeship towards the end of last year.
Career progression and development remains high on the agenda at Jacksons as three members of staff were promoted to partners in 2020; two associate lawyers and the head of finance, taking the total number of partners to 12, and a solicitor from the litigation department who was promoted to associate solicitor. In total, there are 79 members of staff; 39 legal experts, five trainees, eight who work in the firm's professional services teams including Finance, Marketing and HR, all of whom are supported by the secretarial and administration teams.
Jacksons is very proud of its reputation for retaining staff and in supporting them through their career progression. One of the partners joined the firm on a Youth Training Scheme in 1989 and another who gained work experience in 2004, whilst she was still at University. Both are now equity partners and head up their respective departments. In 2019, a party was organised to celebrate the 50th work anniversary of one of the firm's secretaries who joined in 1969. Furthermore, there are 12 staff who have been with the firm for a quarter of a century. 25% of staff are under the age of 25 and are amongst the more recent recruits.
The firm offers a competitive benefits package including flexible working hours, with 30% of staff taking advantage of the scheme. Holiday entitlement increases with the length of service (up to 32 days plus bonus holiday) as well as a holiday purchase scheme, in-house and retail discounts along with life insurance, enhanced pension options and various other perks are available.
Zoe Tweddle, HR Manager said, "We are delighted to be in a position where we are able to offer jobs during the current pandemic, as we know that many businesses have unfortunately had to cease trading. Careers at Jacksons are long term and rewarding and we fully support progression and development. We acknowledge that it's a difficult time to change jobs and we are happy to have an informal, confidential chat with anyone who is interested in the current roles we have available.
A new way of working was put in place at the start of lockdown in 2020, so that all staff could work safely and remotely from home when they cannot attend the office. Jacksons continues to operate successfully during the pandemic with very little disruption, due to the rapid response from the firm's Covid 19 committee which was formed prior to the announcement of lockdown in March 2020.
Jacksons is keen to support young people in the region and regularly has apprenticeship vacancies available. If you are interested in any of our current vacancies, or future apprenticeships please contact us on recruitment@Jacksons-law.com or call 01642 356500 and ask to speak to our HR Manager, Zoë Tweddle.
Jacksons has its head office in Stockton on Tees, an office in Newcastle upon Tyne and office space in Sunderland, it is well placed to offer legal advice to businesses and individuals across the region. Its services include commercial property, corporate and commercial, dispute resolution and debt recovery, corporate insolvency, regulatory (including health & safety), employment, private client legal assistance, residential conveyancing and matrimonial.